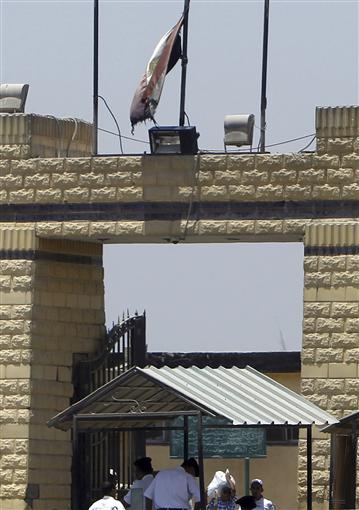 Policemen and people walk in front of the main gate of Tora prison, where former Egyptian president Hosni Mubarak and his former Interior Minister Habib al-Adli are held at, in the outskirts of Cairo June 4, 2012. REUTERS/Amr Abdallah Dalsh
Investigations have started into the death of an Imbaba clothes merchant allegedly tortured to death in Waraq police station.
An initial forensics report revealed on Thursday prompted the investigation into the death of 48-year-old Sameh Ahmed Farrag.
The Al-Waraq Prosecution Office summoned officers based at the Waraq police station for questioning.
According to Sameh's brother, Abd El-Mohsen Farrag, Sameh visited Al-Waraq police station on Tuesday to enquire about a friend who had been detained there.
Police later visited Farag's family home and asked them to receive Sameh's dead body from the Imbaba public hospital.
Upon their arrival, Farag's family found Sameh's body half naked with a swollen face, handcuff marks around his wrists and bloodstains on his feet.
Sameh's corpse has been transferred to Zeinhom morgue in Cairo.
The victim's family is accusing the officers at Waraq of killing Sameh.
In their defense, an officer from the police station filed a report stating that Sameh entered a brawl with a group of microbus drivers near the station. Police intervened to break up the fight and took Sameh back with them to the station.
According to the report, Sameh proceeded to curse at the officers at the station where he stormed into the office and broke things along his way before falling dead.
But Sameh's brother discounts the officers' version of the story, alleging that his brother would never lose his temper in such a manner.
Sameh's death sparked attention among a number of human rights organisations in Egypt.
The National Centre for Defence of Freedoms, headed by Khaled El-Masry, was of the first to condemn Sameh's death.
El-Masry said in a statement released Wednesday that the Centre would stand in solidarity with Sameh's family until the killers were punished according to the law.
While it was one of the main reasons to have sparked Egypt's revolution in 2011, several incidents of police brutality continue to be reported across the country.
In a report released in October, the Cairo-based Nadim Centre for the Rehabilitation of Torture Victims recorded at least 34 deaths as a result of police brutality, 88 cases of torture by the hands of police and seven cases of sexual assault during President Mohamed Morsi's first 100 days in office.