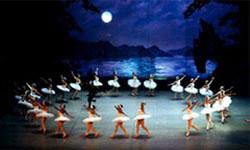 A file photo of ballet performance at Cairo Opera House
Egypt's Actors' Syndicate condemned calls made by Islamist Members of the Parliament (MPs) to ban the art of ballet on Thursday.
Egyptian artists issued a statement, decrying controversial remarks made by members of the Shura Council (upper house of parliament) regarding the classic dance genre.
During a Shura Council session held on Tuesday, Member of the Ultraconservative Nour Party Gamal Hamed called for the abolition of ballet performances in Egypt, describing it as "immoral" and "nude art".
Another member of the parliament described ballet as "the art of spreading obscenity among the people."
"The Actors' Syndicate emphasizes its rejection of such irresponsible statements that insult classical arts and artists," said their statement.
The statement described ballet as a national wealth, stressing that it should be invested in and maintained.
The syndicate decided to file lawsuits against the parliament members who made these statements, adding that these members are unaware of the importance of this art as a source of national income and tourism to Egypt.