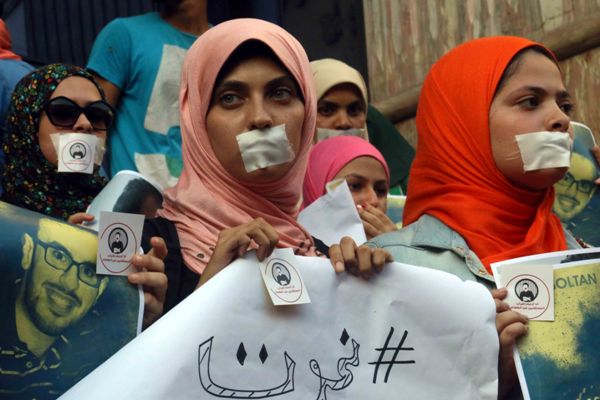 Protest outside the Press Syndicate in support of imprisoned activists who are on a hunger strike, on August 25, 2014 - Emad Ahmed - Aswat Masriya
CAIRO, Oct 22 (Aswat Masriya) – The Cairo Criminal Court rejected on Wednesday a request by the United States consul to release hunger-striking Egyptian-American journalist Mohamed Soltan.
Soltan was arrested from his home on August 27, last year after the deadly dispersal of two camps set up in support of former President Mohamed Mursi following his ouster in July 2013. He has been on hunger-strike since January in protest over his detention, maintaining the longest hunger strike among those detained.
The U.S. Consul called for Soltan's release due to his poor health condition, an Aswat Masriya correspondant said, citing the letter the consul submitted to the court via the prosecutor general.
The court said in response that; "it rejects the interference of any country, regardless of its position." It also rejected "the interference of the foreign ministry in a judicial matter which concerns the court."
On hunger strike for over 260 days, Soltan's life is believed to be in danger. He was taken into Wednesday's session on a stretcher.
A protest was organised outside the Journalists' Syndicate in downtown Cairo on Saturday calling for Soltan's release.
Soltan is being tried alongside the Muslim Brotherhood's Supreme Guide Mohamed Badie and 49 others for managing an "operations room" following the dispersal of the two pro-Mursi camps in August 2013. The defendants are accused of using the operations room to "resist the state and spread chaos."
Muslim Brotherhood leaders and supporters have often found themselves behind bars and facing courts since the ouster of Brotherhood member and former President Mursi in July last year. A court in Minya has served over 1000 Brotherhood supporters preliminary death sentences in March and April 2014.
The Brotherhood itself was listed as a terrorist organisation in December last year.