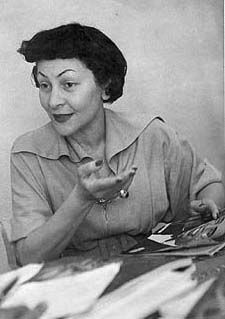 Doria Shafiq (December 14, 1908 – September 20, 1975)
A number of Egyptian political parties and non-governmental organizations (NGOs) have denounced the decision of the Ministry of Education to remove the picture of historic figure Doria Shafik amid developing curriculum of history textbooks.
Some activists have denounced this move speculating it as an attempt to "brotherhoodize" Egypt's culture.
Thirty organizations have launched a signature campaign against the proposed amendments to the curriculum of national textbooks.
"Removing Doria's picture under the pretext that she does not wear Hijab (Islamic veil) is an unacceptable approach in dealing with Egyptians," said the campaign's statement.
According to the statement this decision represents a clear threat to women's rights which President Mohamed Mursi had promised to preserve.
Doria Shafik had led the women's liberation movement in Egypt, staged sit-ins to protest the British occupation and founded a movement to eradicate ignorance and illiteracy among girls and women in Egypt.
Shafik fought for women's acquirement of civil and political rights, her struggle resulted in granting women the right to vote and to run for political office.
The statement also condemned different actions which explicitly endanger women rights, citing the assault on veteran activist Shahenda Maklad outside the presidential palace in December and recent attempts to isolate judge Tahani al-Gebali from her post in Egypt's Supreme Court.

"Egypt's women will uphold their right to maintain their status and will not accept any deliberate attempts to falsify history and reduce women's rights," the statement stressed.
The statement concluded that "the signatories of the statement will take all necessary legal actions to preserve the heritage of Egyptian women."