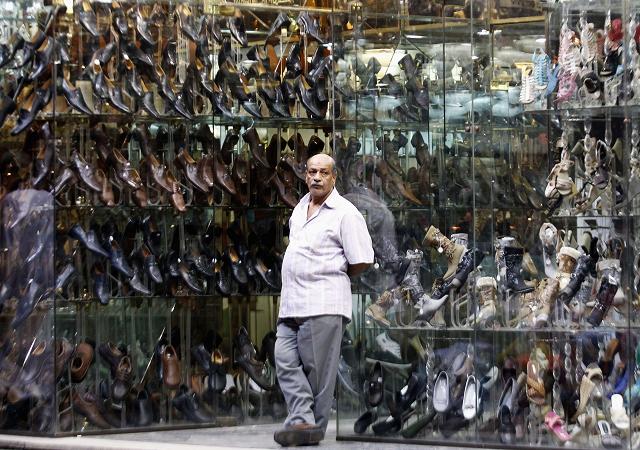 A man stands outside a footwear shop in Cairo October 22, 2012. REUTERS/Mohamed Abd El Ghany
CAIRO, Oct 13 (Reuters) - Egypt's GDP growth rate rose in the fourth quarter to 3.7 percent, up from 2.5 percent, the government said on Monday, in the latest sign that confidence is returning to an economy battered by three years of political turmoil.
However, the full-year growth rate was barely changed, reflecting earlier quarters' weak expansion while the security and political climate in the country deteriorated.
Egypt posted GDP growth of 2.2 percent for the full 2013/14 fiscal year, which ended in June.
This was up slightly from 2.1 percent the previous year, but remains far slower than the pace needed to create enough jobs for a youthful population of 86 million.
Egypt's economy has been hammered by instability following the 2011 uprising that toppled autocrat Hosni Mubarak after 30 years in power.
But the political stability achieved since president and former army chief Abdel Fattah el-Sisiremoved the Muslim Brotherhood from power last year has boosted confidence.
Business activity in Egypt expanded at a near-record pace in September, a survey showed last week, with the nascent economic recovery encouraging companies to hire for the first time in nearly 2-1/2 years.
"Growth in new orders and employment shows us market sentiment is improving," said Razan Nasser, senior economist at HSBC, commenting on the Egypt Purchasing Managers Index (PMI).
"Many challenges still lie ahead, but overall the numbers are encouraging, and we continue to expect growth to pick up pace through 2015."
A recent Reuters poll showed economists nudging up their forecasts for the current fiscal year, which runs through June 2015, to 3.3 percent.
Gulf Arab states have pumped more than $12 billion into Egypt since Sisi ousted Islamistpresident Mohamed Mursi of the Muslim Brotherhood in July 2013.
The aid has kept the economy afloat and given the government the fiscal space to introduce reforms as it tries to encourage growth while curtailing its budget deficit.
Egypt raised fuel prices by up to 78 percent in July in a long-awaited step to cut energy subsidies and ease the burden on the government's swelling budget deficit.
The cuts pushed up prices and hit business activity in July, but the effects appear to have been short-lived, with the pace of economic activity picking up in the two months since, according to the PMI survey. (Reporting by Shadi Bushra; Editing by Toby Chopra)