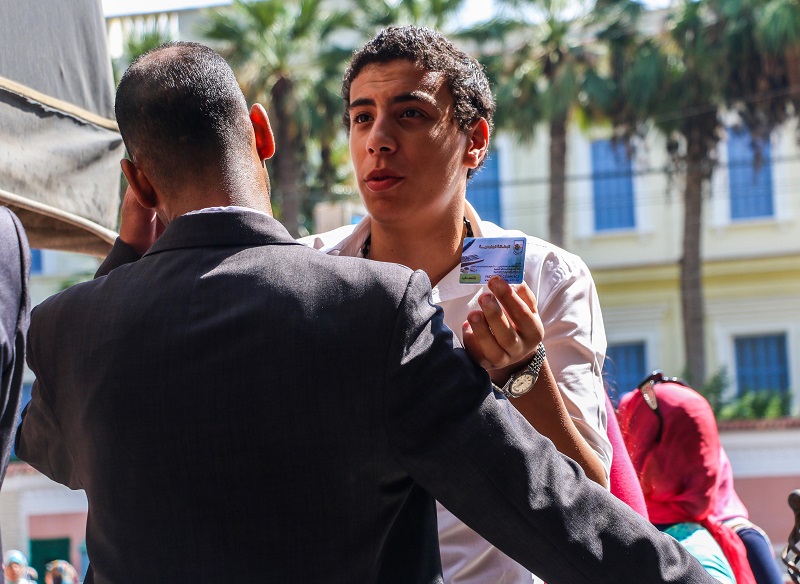 The academic year started amid tight security measures in state universities on October 11, 2014 - Asmaa Abdel Latif/Aswat Masriya
CAIRO, Oct 18 (Aswat Masriya) – Fifty-eight student protests were reported by Democracy Index during the first week of the new academic year, at the rate of almost 10 protests per day.
The Cairo-based Index released on Saturday a report on the first week of the academic year, which has witnessed tension and on-campus violence on an almost daily basis.
Protests were reported in 18 universities nationwide. They included al-Azhar University, Cairo University and the University of Alexandria.
Ninety-eight percent of the reported student protests were peaceful, Democracy Index said. It added, nevertheless, that the violence with which security officials met the protests turned 30 percent of such protests to acts of violence and confrontations.
The Index reported 17 acts of violence in universities. They included six clashes between students and security forces, four clashes between students who support the current administration and students who support the Muslim Brotherhood, two clashes between students and personnel from a private security company guarding certain universities, and one clash with administrative security personnel.
The clashes left 26 students and 9 security personnel injured, Democracy Index reported.
Minister of Higher Education Sayed Abdel Khalek hired Falcon Security Services on September 24 to guard 12 public universities during the coming academic year. Strict security measures adopted by Falcon at the university gates nevertheless triggered violence from the students, who became frustrated with their delayed entrance into campus.
Falcon CEO Sherif Khaled told Aswat Masriya the company lost 30 thousand Egyptian pounds during the first two days of the academic year. Democracy Index reported four cases of destroying Falcon security gates.
The Index said 163 students were arrested during the first week of the academic year, including 17 students arrested from their homes.
The Association for Freedom of Thought and Expression (AFTE) meanwhile reported the arrest of over 200 students during the past week in a report released on Saturday. AFTE said that 186 students remain detained. Those arrested include 70 students arrested from their homes, AFTE had earlier reported.
Eight domestic civil society organisations condemned the arrest of students during the first three days of the year in a statement released on Tuesday. International Watchdog Human Rights Watch also condemned the students' arrest in a separate statement on the same day, calling for their release.
Protesting students' main demands included releasing arrested students and reversing the expulsion of colleagues, Democracy Index said. Ten student demonstrations were held to protest security violence against students and hiring Falcon to secure university gates.
University campuses have witnessed unprecedented violence throughout the past academic year, with at least 16 students killed amid on-campus protests, according to AFTE's Student Observatory.
The pro-Mohamed Mursi "Students against the coup" movement has been organising protests against the former Islamist president's military ouster throughout the past academic year. Protests have often devolved into clashes with security forces.
Democracy Index is a research project issued by the Cairo-based International Development Centre to monitor protests rate in Egypt.