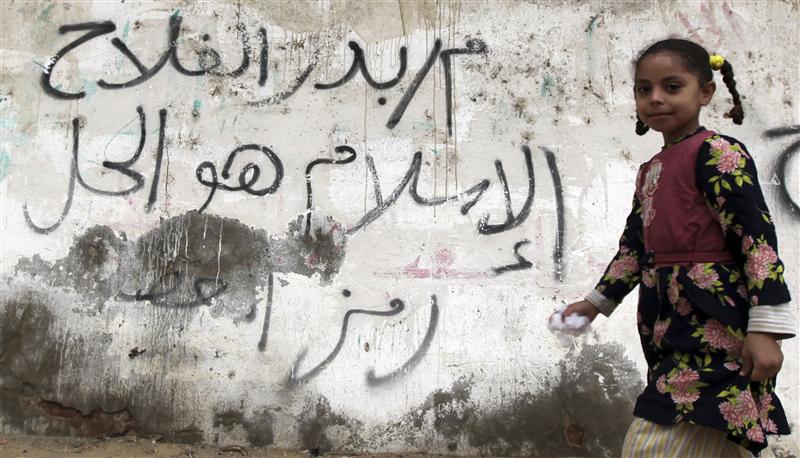 A young Egyptian girl walks in a Monofeya neighborhood with the phrase, Islam is the solution drawn on the wall behind her. Reuters.
Egypt's Constitutional Court struck down on Sunday a legal challenge against Article 242 of the criminal code that criminalizes female genital mutilation (FGM).
A fundamentalist cleric, Shiekh Youssef al-Badri, had filed a legal challenge against the said article, challenging its constitutionality.
Human rights lawyer and head of the Center for Economic and Social Rights Khaled Ali told Aswat Masriya on Sunday that he came forward to the court to insist upon keeping the law that forbids the act.
The plaintiff had challenged a decision of 2007 by the health minister that forbids surgical operations that include cutting of women's reproductive systems whether at governmental hospitals or private ones.
The court said that FGM would only be allowed in cases of a "medical necessity" and a certificate would have to be produced in such cases from the gynecological department of a hospital.
Egypt's Azhar – most prestigious Islamic body – had more than once condemned the act, describing it as a crime against women.
According to the law, anyone who performs FGM is to be imprisoned for a minimum of three months and a maximum of two years.
The Egyptian Center for Child Rights issued a statement welcoming the court's decision.
Meanwhile, some ultraconservative religious figures endorse the practice, claiming that it is a religious duty.