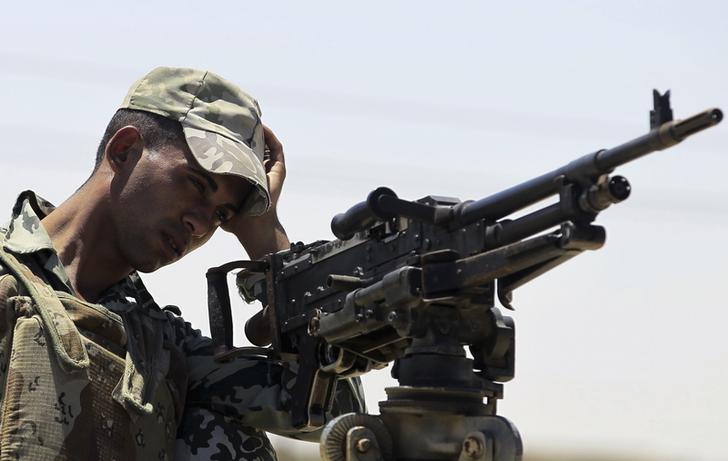 An army soldier in Sinai - Reuters
CAIRO, Jan 6 (Aswat Masriya) - Egyptian army forces killed yet another batch of militants and arrested two suspects in the context of the "Martyr's Right" military operation in northern and central areas in Sinai, the army spokesman said Wednesday.
Today's killing of 11 brings the number of "takfiris" murdered by the army in the past four days to 98, within the second phase of the operation dubbed by the military as Egypt's "largest" military action against "terrorists" in North Sinai.
The military spokesman added that army forces detected weapons, explosive material and narcotics, detonated five explosive devices and destroyed vehicles and motorcycles that were used by the "takfiri" militants in their operations.
Aswat Masriya could not independently verify the content of the army statement. Anti-terrorism legislation imposes heavy fines on news organisations that contradict official statements.
North Sinai militants have stepped up attacks targeting security forces since the military ousted Mohamed Mursi as president in July 2013 after mass protests against his rule.
Since October 2014, Sinai has been under a state of emergency, which was subjected to repeated renewals, following a large-scale militant attack on the Karm al-Qawadis checkpoint in Sheikh Zeweid, which resulted in the death of 33 Egyptian soldiers. The attack was then claimed by ISIS-affiliated "Sinai Province".