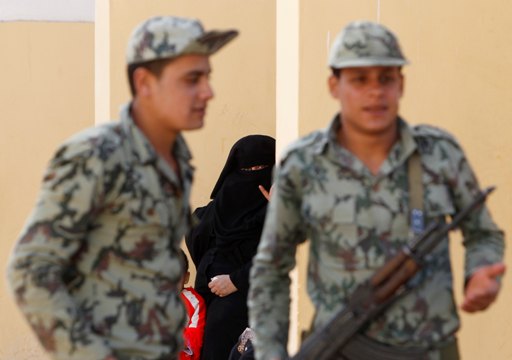 Army soldiers guarding a polling station in Mahalla - Reuters
CAIRO, Oct 13 (Reuters) - A U.S. citizen was found dead in an Egyptian prison on Sunday in an apparent suicide six weeks after he was arrested for breaking a curfew, security sources said.
James Henry had been held at Ismailia, northeast of Cairo, since his arrest on Aug. 28 near the border with the Gaza Strip.
A U.S. embassy official said a U.S. citizen had died as the result of an apparent suicide at the Ismailia prison. Egyptian authorities made no immediate comment.
At the time of Henry's arrest, security sources had said that he was on his way to Gaza.
He was arrested in the town of Sheikh Zwayed in North Sinai for breaking a dusk-to-dawn curfew imposed amid clashes between security forces and supporters of ousted Islamist President Mohamed Mursi.
Henry's detention had been extended by 30 days on Saturday for further investigation.
The prisoner had hung himself with his shoe laces and an autopsy was now being carried out, one security source said.
In September, a Frenchman accused of breaking the curfew was beaten to death by fellow detainees in Cairo, security sources said. (Reporting by Asma Alsharif and Youssry Ahmad; Editing by Matthew Tostevin)