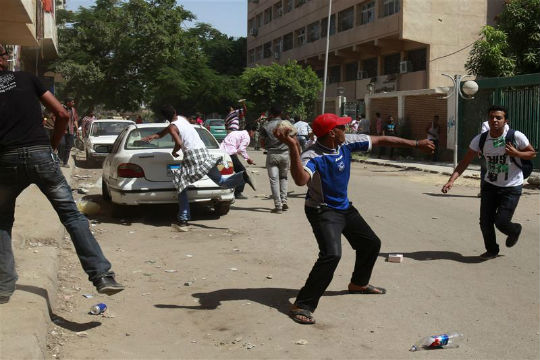 (Archive) Suez clashes - Asmaa Waguih/Reuters
Hundreds of supporters of deposed President Mohamed Mursi have set fire to the Good Shepherd Church, the Franciscan School and two armored military vehicles in Suez, according to Aswat Masriya's local reporter.
The Mursi loyalists also clashed with the security forces on Wednesday, protesting against the crackdown on the Muslim Brotherhood's protest camps in Cairo earlier today.
The protesters pelted stones at the police and the army who responded by firing teargas bombs.
Employees at government facilities were officially asked to leave early on account of these confrontations.
An eyewitness told Aswat Masriya that the pro-Mursi protesters have also blocked a highway that links the cities of Suez and Ismalia.