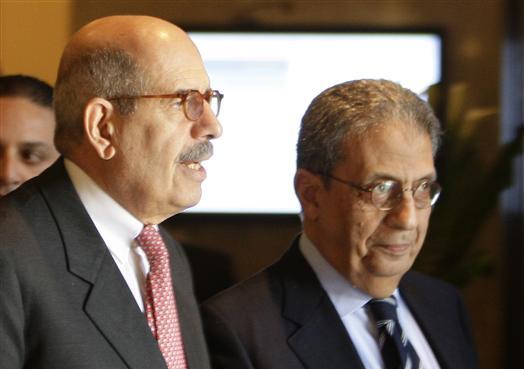 Amr Moussa in a previous meeting with Mohamed ElBaradei - Tarek Mostafa/Reuters
Nobel Laureate and member of the National Salvation Front - Egypt's main opposition coalition – said after a meeting with political forces on Thursday that he is optimistic.

He added that political forces will exert all possible efforts to build the trust between the different factions in Egypt.

Chairman of the Muslim Brotherhood's Freedom and Justice Party, Saad al-Katatni, said at the meeting called by Azhar that a new committee that groups all forces will be formed to draft a plan for dialogue.

Katatni insisted in the press conference that all topics can be discussed, adding that the national dialogue must have bases and guarantees.

Egypt's Azhar (most prestigious Islamic institute) convened a meeting with representatives from all political forces on Thursday in an attempt to brainstorm means to come out of the current political crisis that has triggered violence that left over 50 people killed.

The political forces, including both the ruling party and opposition, signed a document denouncing violence at the meeting.