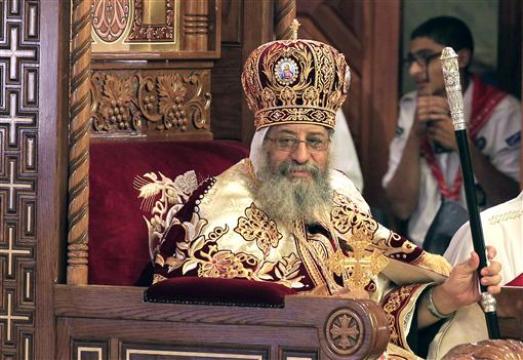 Pope Tawadros II, the new pope of the Coptic Orthodox church, attends his enthronement ceremony at St. Mark Cathedral in Abbasiya, Cairo November 18, 2012. The Coptic Orthodox church staged a ceremony rich in ritual on Sunday to install its pope, Tawadros II, who Christians hope will guide them through the new, Islamist-led Egypt - REUTERS/Mohamed Abd El Ghany
Scores of Copts on Wednesday evening organised a protest inside the Abbasiya Cathedral in Cairo following the Pope's sermon to demand that the pope steers clear of political affairs in his statements, the state news agency reported.
Pope Tawadros II had recently told the Middle East newspaper that civil disobedience in pointless. He urged those calling for civil disobedience to give those whom he called "guardians" a chance to deal with the demands of the people and respond to them.
Bishop Moussa who is charge of youth affairs had also issued a statement denying the "brotherhoodisation" of state institutions.