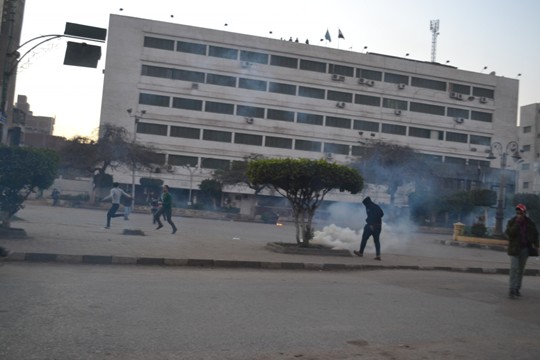 Clashes between security forces and residents of Gharbiya on February 8, 2013 - Aswat Masriya
CAIRO, Mar 21 (Aswat Masriya) - Five people, including two policemen, were injured on Friday morning when Muslim Brotherhood supporters clashed with residents of Abu Hammad town in Sharqiya.
Three citizens sustained minor cuts and injuries while Sergeant Abdel Aziz Abdel Razek Hussein was shot in the shoulder and undercover agent Mohamed Abdel Karim Mohamed sustained a broken hand.
Hundreds of pro-Brotherhood protesters demonstrated at al-Geish Street in Abu Hammad while carrying the four-fingered Rabaa symbol and chanting against the police and the army.
Angry area residents in return gathered to stand up to them. The two sides clashed, hurling stones at each other and exchanging fire, an Aswat Masriya witness reported.
Security forces fired teargas bombs to disperse the clashing parties and restore calm to the area. They also arrested three rioters.
Supporters of ousted President Mohamed Mursi have been staging weekly demonstrations to protest what they called a coup against legitimacy after Mursi was deposed.