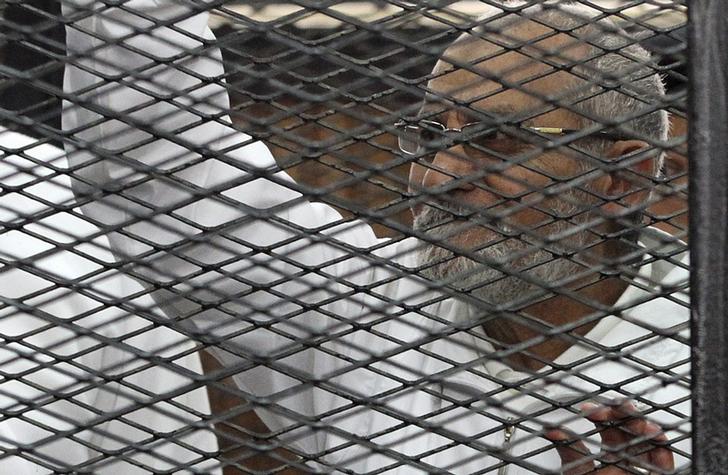 Muslim Brotherhood leader Mohammed Badie looks on from the defendants cage during his trial with other leaders of the group in a courtroom in Cairo December 11, 2013. REUTERS/Stringer
CAIRO, July 10 (Aswat Masriya) - A committee managing the Muslim Brotherhood's funds has asked Egypt's prosecutor general to interrogate 737 Brotherhood members on charges of funding a "terrorist" group.
Ezzat Khamis, the committee's head, said that he sent the prosecutor general documents that prove the involvement of top Brotherhood leaders, including Mohamed Badie, Khairat al-Shater, Mohamed al-Beltagi, and Essam al-Erian, in funding the organisation.
The prosecution will interrogate the accused as per article 86 the penal code, Khamis told Aswat Masriya.
According to the article, anyone who establishes or founds or organised or ran an association, body, organisation or group that calls for disrupting the law or hindering state bodies or authorities from performing their duties or assaults personal freedoms is to be jailed.
If terrorism was used as a means to carry out such acts, the accused stand to be sentenced to death.
Egypt has declared the Muslim Brotherhood a terrorist organisation in December 2013 and criminalised all its activities after a deadly suicide bombing on a police headquarters that left more than a dozen dead and scores injured.