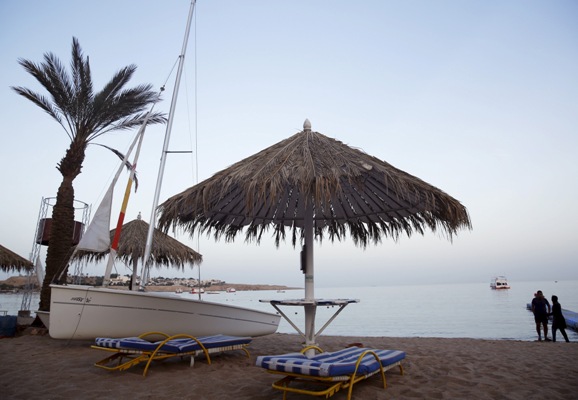 An Egyptian couple enjoys the water at a beach at the Red Sea resort of Sharm el-Sheikh city, which will host the Arab Summit on Saturday, in the South Sinai governorate, south of Cairo March 27, 2015. REUTERS/Amr Abdallah Dalsh
CAIRO, Apr 13 (Aswat Masriya) - The occupancy rate of Egypt's Sharm el-Sheikh resort city reached 75 percent during the current Easter holidays, a South Sinai official told the state agency MENA on Monday.
Egypt is celebrating Easter today, two days after the Coptic Feast of Resurrection.
Essam Khedr, head of South Sinai's crisis management administration, told MENA that the Sharm el-Sheikh International Airport received on Monday 16 domestic and foreign tourists. He described the resort city's occupancy rate as relatively high.
Other resort cities in the South Sinai governorate did not witness such a high occupancy rate this season.
The occupancy rate of the city of Ras Sidr, which lies between Cairo and Sharm, stood at 52 percent, while the cities of Taba and Nuweiba witnessed an even smaller occupancy rate of 48 percent, Khedr told MENA.
Tourism was a main source of income in Egypt until a popular uprising which toppled former President Hosni Mubarak's regime in 2011 triggered four years of political turmoil, taking its toll on the sector.
Tourism revenues jumped to almost $4 billion from $1.9 billion during the first half of the current fiscal year 2014/2015, the central bank announced on March 19.