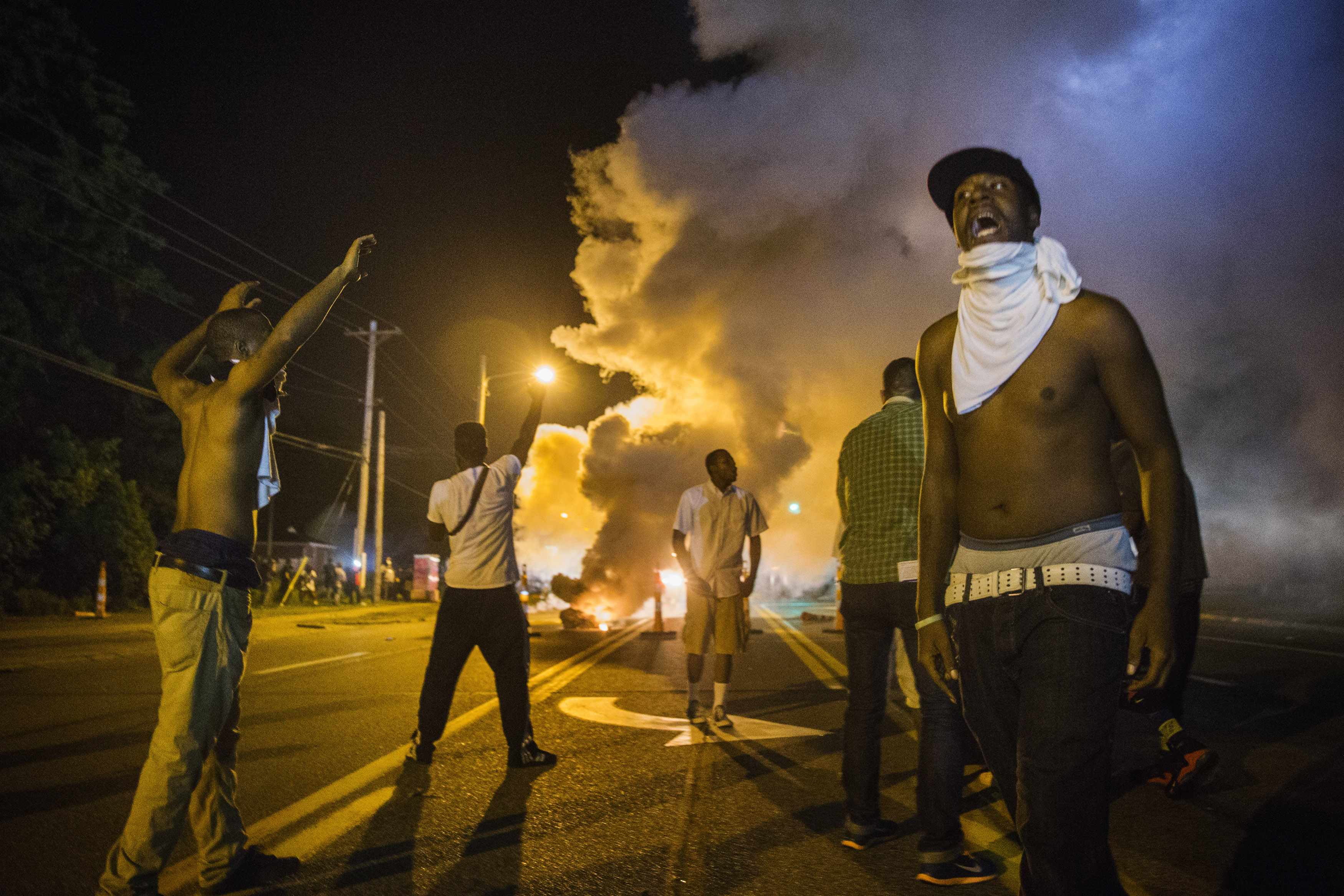 Demonstrators stand in the middle of West Florissant as they react to tear gas fired by police during ongoing protests in reaction to the shooting of teenager Michael Brown, in Ferguson, Missouri, August 18, 2014. REUTERS/Lucas Jackson
CAIRO, Aug 19 (Aswat Masriya) - Egypt's ministry of foreign affairs stressed on Tuesday it agrees with United Nations' Secretary-General Ban Ki-moon's call for "self restraint" in the protests prevailing in the American town of Ferguson in Missouri.
Thousands of demonstrators have been filling the streets of Ferguson in protest over the shooting of an unarmed African American teenager at the hands of a white policeman on August 9. Protests have led to questioning whether the incident reflects a larger trend of local police excesses.
On Monday, Ban urged all parties to exercise restraint and called on the United States authorities to respect the right to peaceful assembly, his spokesman said. The secretary-general also urged law enforcement officials to abide by "U.S. and international standards in dealing with demonstrations."
Egypt's Foreign Ministry Spokesman said on Tuesday Ban's aforementioned statements "reflect the international community's stance on the matter." He added that Egypt is closely following up with the "mounting protests" in Ferguson.
Missouri Governor Jay Nixon declared a state of emergency and a two-day night curfew for the town on Saturday. The governor deployed National Guard troops with the lifting of the curfew on Monday.
Security forces faced protesters with teargas and stun grenades on Monday, while the latter attacked security forces with projectiles, reported Reuters.
Egypt's relations with the U.S. have been tense since the military ouster of former Islamist President Mohamed Mursi in July 2013. Mursi's ouster was followed by a strong wave of violence which left hundreds of Mursi supporters killed and thousands arrested, often strongly condemned by the U.S.
The highest death toll of last summer's violence was reported on August 14, following the forcible dispersal of two pro-Mursi camps in Greater Cairo; the Rabaa al-Adawiya and Nahda sit-ins. International watchdog Human Rights Watch released last week a report on the dispersals after a year-long investigation.
The report, entitled "All According to Plan: The Rabaa Massacre and Mass Killings of Protesters in Egypt," accused Egypt's security personnel of "systematically" killing at least 1,150 pro-Mursi protesters in July and August 2013. It added that such killings "probably amount to crimes against humanity."
The sit-ins' dispersal alone left at least 817 protesters killed, according to an HRW death toll provided in the report. Official figures meanwhile put the death toll at 627.
In a U.S. State Department press briefing on Monday, State Department Deputy Spokeswoman Marie Harf said the U.S. is "deeply disturbed" by the report's finding. She nevertheless stressed that the U.S. "strategic relationship" with Egypt remains "ongoing".
Egypt's State Information Service (SIS) condemned the HRW report last week, describing it as "negative and biased."