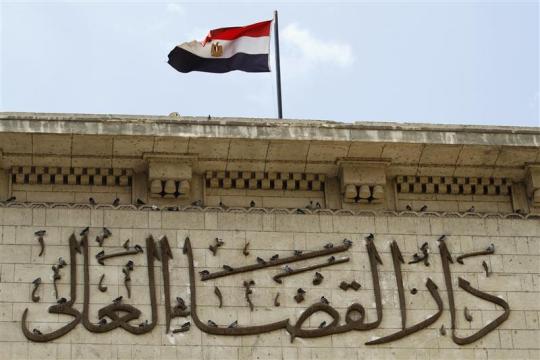 High Court building in Cairo
A Cairo criminal court on Monday sentenced journalist El-Walid Ismail to one year in prison for attacking Egyptian security personnel during last year's trial of ousted president Hosni Mubarak.
Ismail, a journalist for liberal daily 'Tahrir,' was convicted in absentia of attacking and beating a police officer during the final session the Mubarak trial, popularly known as Egypt's 'trial of the century.'
Writing on Tahrir's news website, Ismail wrote that neither he nor the newspaper – nor Egypt's press syndicate – had been informed of the case until the final verdict was announced.
During the last session of the Mubarak trial, clashes erupted between security forces and reporters covering the event.
Ismail had subsequently filed a complaint at the New Cairo Police Station against several police officers allegedly involved in the violence. One of the officers, however, also filed a complaint against Ismail, alleging that the reporter had started the altercation.
The Egyptian Journalists Syndicate, for its part, has declared its "total rejection" of Ismail's one-year jail sentence.
Abeer El-Saadi, a member of the syndicate's board of directors, has told several media outlets that the syndicate was discussing the implications of the sentence and means of having it suspended.
El-Saadi asserts that the syndicate had closely followed alleged attacks against journalists by security forces during the Mubarak trial, which it had reported at the time to Egypt's general prosecution.
According to syndicate regulations, a syndicate lawyer and board member must attend all trials of accused journalists.
Ismail's stiff penalty is considered the first jail sentence delivered in absentia against an Egyptian journalist in 2013.
Several high-profile cases were filed against journalists in recent years, including Al-Dostour Editor-in-Chief Islam Afifi; Sawt Al-Umma Editor-in-Chief Abdel-Halim Qandeel; and Youm 7 Editor-in-Chief Khaled Salah. None of these newsmen, however, were ever convicted.