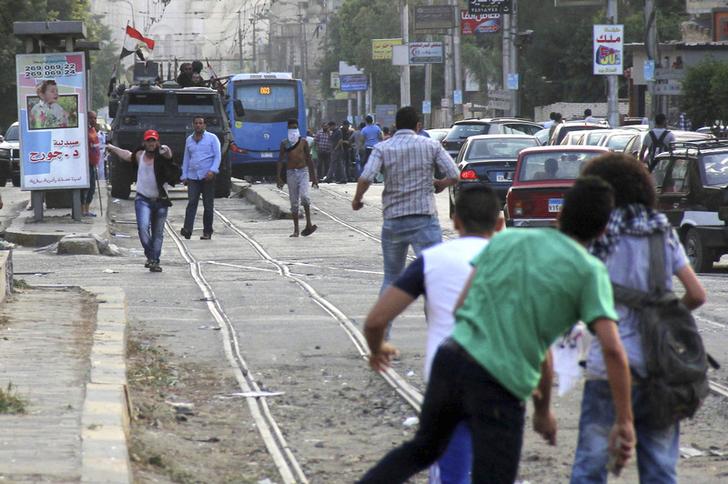 Protesters (R) taking part in a rally against anti-protest legislation clash with police and unidentified people in Cairo, June 21, 2014. REUTERS/Al Youm Al Saabi Newspaper
CAIRO, Sept 30 (Aswat Masriya) – An Egyptian misdemeanour court sentenced on Tuesday nine protesters to two years in prison for violating without notice.
The defendants were not in custody when the verdict was issued.
They were arrested in January for organising a protest in Cairo's Talaat Harb Square without notifying the authorities, which counts as a breach of last year's protest law.
Former interim President Adli Mansour issued the protest law on November 24 to regulate peaceful assembly. The law has long been the epicentre of wide criticism by domestic and international human rights organisations which say it violates international standards for peaceful protests.
Article 8 of the legislation obliges demonstrators to inform the authorities of their intention to assemble at least three working days prior to their scheduled events. Article 10 meanwhile gives the interior ministry the right to cancel, postpone or move protests "should they receive serious intelligence suggesting the organisers would breach … the law."
An Egyptian rights group filed on Sept 13 a lawsuit at Egypt's top court, the Supreme Constitutional Court, challenging the constitutionality of the law.
prominent political activist Ahmed Douma, and April 6 Youth Movement co-founders Ahmed Maher and Mohamed Adel were sentenced to three years in prison in December for violating the protest law.