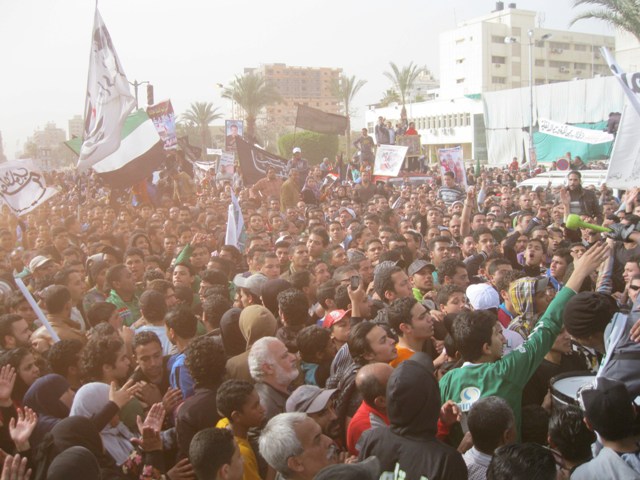 Thousands rally in anti-Mursi protests in Port Said on February 22, 2013 - Aswat Masriya
Egypt's Prime Minister, Hisham Kandil, said on Saturday that the government is ready to respond to the demands of the people of Port Said by assigning a special magistrate instead of the public prosecution to conduct investigations in the violence that erupted in the city.
Forty-two people were killed when violence erupted in Port Said at the end of January when relatives of defendants sentenced to death for involvement in football riots that killed over 70 people last February clashed with police.

Kandil said, in an interview aired on state television, that the imposition of a state of emergency was an exceptional measure due to the presence of abnormal conditions, saying, "there is no collective punishment ... People of the Canal are deeply appreciated."
He said that the national project for the development of the Suez Canal, is not only limited to the cities of the Canal, but is inclusive of all the cities in Egypt.
He added that the project includes more than 750 thousand job opportunities. The project will debut in Port Said, Suez and Ismailia.
Regarding the civil disobedience in Port Said, Kandil explained that the government is in constant contact with the Governor of Port Said and their representatives in the Shura Council, saying they are ready to receive the representatives of Port Said at any time and listen to their demands.
Kandil offered his condolences to the martyrs of Port Said, stressing the need for retribution for the martyrs.