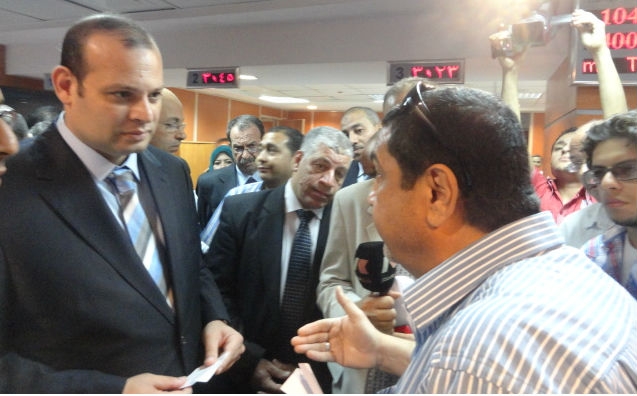 Minister of Trade and Industry Hatem Saleh during a visit to the Industrial Development Authority - photo from the Ministry of Industry
Egypt is planning to double its non-oil exports to the United States in the new year, minister of trade and industry Hatem Saleh said in a statement on Tuesday.
Egypt aims to "create new opportunities for exports through cooperation with retail chains in the United States," the minister added.
According to the ministry's website, Egyptian non-oil exports to the U.S. in the first nine months of 2012 amounted to $1.28 billion out of a sum total of $2.4 billion.
Egypt's U.S. imports were $4.2 billion within the same period.
The U.S.-Egypt Business Council (USEBC) "will prepare an annual action plan that includes choosing four priority sectors to develop trade and economic relations with the United States," the statement said.
The USEBC will work on attracting more U.S. investments to Egypt and supporting Egyptian investment opportunities in the U.S.
Foreign investments and tourists escaped from Egypt following the turmoil triggered by the 2011 popular uprising that toppled former president Hosni Mubarak.
Egypt hopes that the business council will play a role in supporting the launch of discussions to establish a free trade zone between Egypt and the United States, the minister stated.