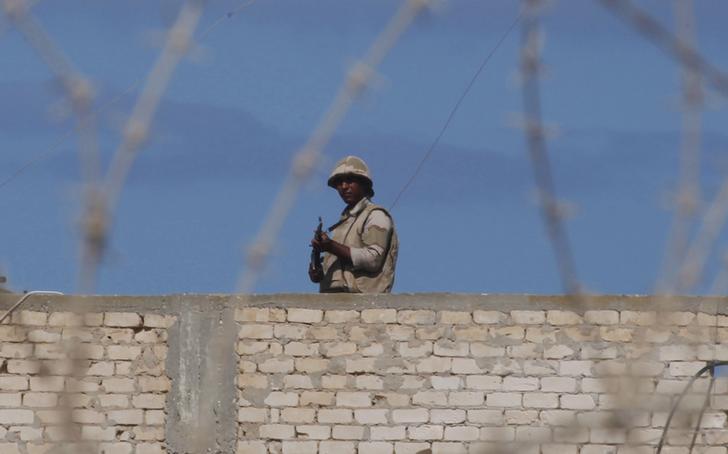 An Egyptian soldier guards the border between Egypt and southern Gaza Strip September 16, 2013. REUTERS/Ibraheem Abu Mustafa
NORTH SINAI, Feb 5 (Aswat Masriya) - One conscript was killed and another was injured in a drive-by shooting by unidentified assailants outside a hotel in North Sinai's al-Arish on Thursday, security sources said.
Police sources told Aswat Masriya the two conscripts were inside a tourism police vehicle at the time of the attack.
The assailants were riding a private vehicle when they opened fire on the conscripts, eye-witnesses said.
Militants have escalated attacks targeting security forces in Sinai, as well as other parts of the country, since the military ouster of Islamist President Mohamed Mursi in July 2013, which followed mass protests against his rule.
At least 30 people were killed and 50 others were injured last Thursday in four separate attacks against security installations in the governorate. Casualties included both civilians and security personnel.
Egypt's most active militant group, Ansar Bayt al-Maqdis, claimed responsibility for Thursday's deadly attacks. The group changed its name to Sinai Province after pledging allegiance to Islamic State fighters in Syria and Iraq last November.
Egypt's Supreme Council of the Armed Forces announced on Saturday a presidential decree establishing a unified army command east of the Suez Canal "to fight terrorism", in response to the attack.