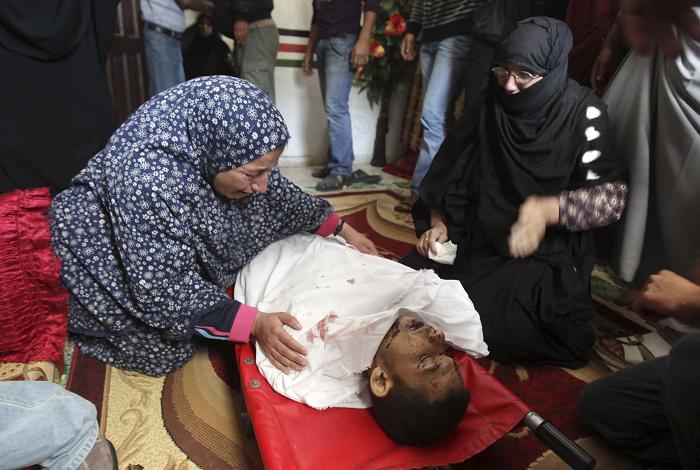 A Palestinian relative of Hamas militant Wael al-Ghalban mourns next to his body during his funeral in Khan Younis in the southern Gaza Strip November 15, 2012.REUTERS/Ibraheem Abu Mustafa
CAIRO, Nov 15 (Reuters) - Egyptian President Mohamed Mursi said Israel's attacks on the Gaza Strip were "unacceptable" and would destabilise the region, in a televised address to the nation on Thursday.

It was the Islamist leader's starkest rhetoric targeting the Jewish state since he took office in June following Egypt's first free leadership election.

Looking more subdued and downcast than in previous public addresses, Mursi repeatedly looked away from the camera as he listed steps he had taken to recall Egypt's ambassador in Israel and reach out to the United Nations Security Council.

"We are in contact with the people of Gaza and with Palestinians and we stand by them until we stop the aggression and we do not accept under any circumstances the continuation of this aggression on the Strip," Mursi said.

"The Israelis must realise that this aggression is unacceptable and would only lead to instability in the region and would negatively and greatly impact the security of the region," he said.

It was the first time Mursi mentioned Israel by name in a public address. Ties between the two neighbours were never warm but have cooled further since Mursi's predecessor Hosni Mubarak, a staunch U.S. ally, was deposed in a street revolt last year.