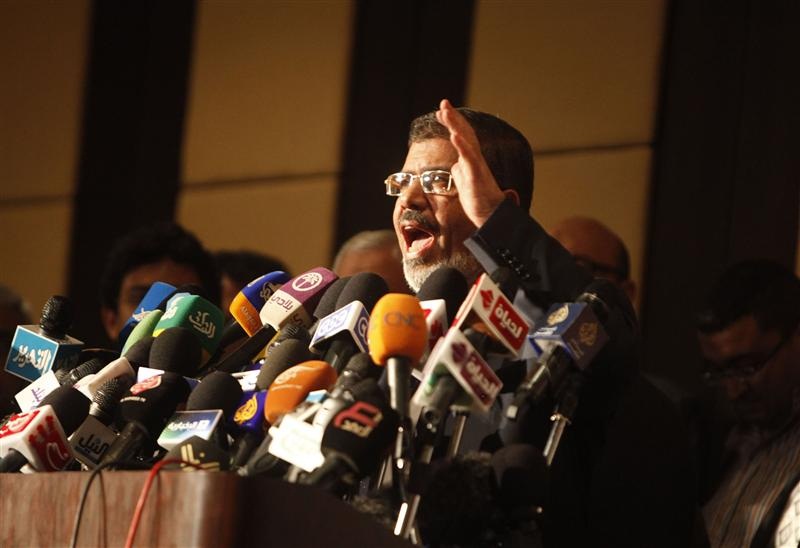 Egyptian President Mohamed Mursi at a press conference on June 22, 2012 - Asmaa Waguih/REUTERS
BERLIN, Jan 30 (Reuters) - Egypt's President Mohamed Mursi said on Wednesday vitriolic remarks he made against Jews and Zionists in 2010 had been taken out of context and said he was not against the Jewish faith.
"As I have said before the quotes were taken out of context... I am not against the Jewish faith, I am not against Jews who practise their religion," Mursi told a joint news conference with German Chancellor Angela Merkel in Berlin.
"I was talking about the practices and behaviour of believers of any religion who shed blood or who attack innocent people or civilians. That's behaviour that I condemn."
"I am a Muslim. I'm a believer and my religion obliges me to believe in all prophets, to respect all religions and to respect the right of people to their own faith," he added.
Berlin was alarmed by video that emerged in recent weeks showing Mursi making the vitriolic remarks against Jews and Zionists in 2010 when he was a senior official of the Muslim Brotherhood. Germany's Nazi past and strong support of Israel make it highly sensitive to anti-Semitism. (Reporting by Alexandra Hudson, Andreas Rinke, Stephen Brown and Annika Breidthardt, writing by Gareth Jones)