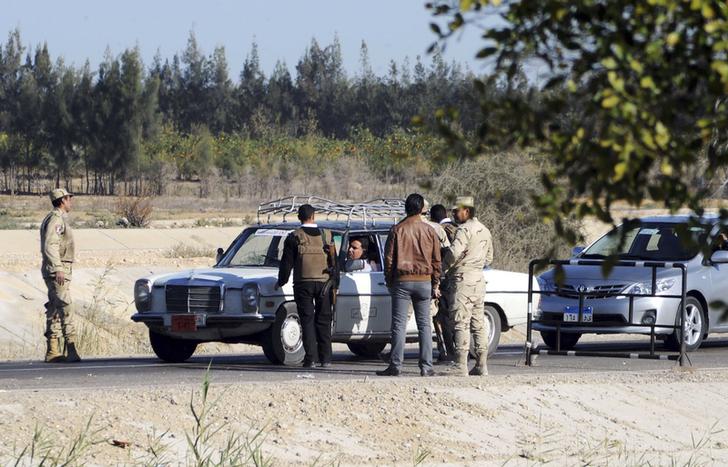 Egyptian security personnel check cars at a checkpoint near the site, where separate attacks on security forces in North Sinai on Thursday killed 30 people, in Arish, North Sinai, Egypt, January 31, 2015. REUTERS/Stringer
CAIRO, Jun 28 (Aswat Masriya) - The British army provided 31 Egyptian army officers with two-week training exercises on the protection from improvised explosive devices (IEDs), the UK embassy in Cairo said on Sunday.
On June 17, Egyptian army officers with ranks ranging from lieutenant to brigadier completed the course, which provides the framework "to precisely analyse intelligence and the threat in a given area and use it to design a safe and sophisticated plan," the embassy said in a statement.
IEDs are often used to carry out militant attacks in Egypt, which has seen a rise in militancy since July 2013. Attacks mostly target security forces and are most frequent in North Sinai.
British Ambassador to Egypt John Casson likened what Egyptian soldiers face in Sinai to what British soldiers faced in Afghanistan.
"We will not leave Egypt to face this murderous violence alone," Casson said.
The British course instructor described the Egyptian officers as being "vastly experienced", adding that the training was "an opportunity" for the two countries "to improve their understanding of the threats they face."