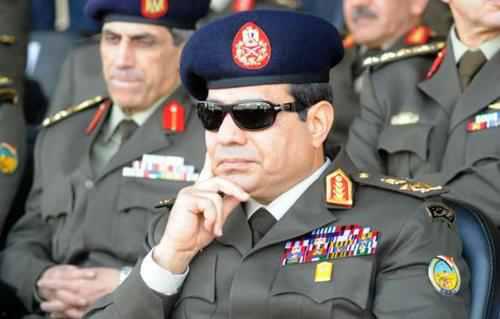 Defense Minister Abdel Fattah al-Sisi - photo from Facebook
Egypt's interim president, Adli Mansour, granted Defense Minister Abdel Fattah al-Sisi the authority for full mobilization starting the beginning of November of this year.
The presidency said that a bill drafted in 1960 regarding the army's full mobilization states that the president or whoever he mandates may take all the necessary measures to confront crises.
Alaa Ezz al-Din, the former director of the army's strategic office, told Aswat Masriya that the procedure takes place in the case of war or domestic tension.
He added that it is a regular procedure, as stated in previous constitutions, that is necessary today in light of a constitutional vacuum.
The 2012 constitution was suspended after the ouster of Islamist President Mohamed Mursi in July.
Violence broke out after Mursi's removal and the state declared a state of emergency and imposed a nationwide curfew.
Violent clashes in August left at least 1,000 pro-Mursi protesters dead, about 100 policemen killed and hundreds injured.