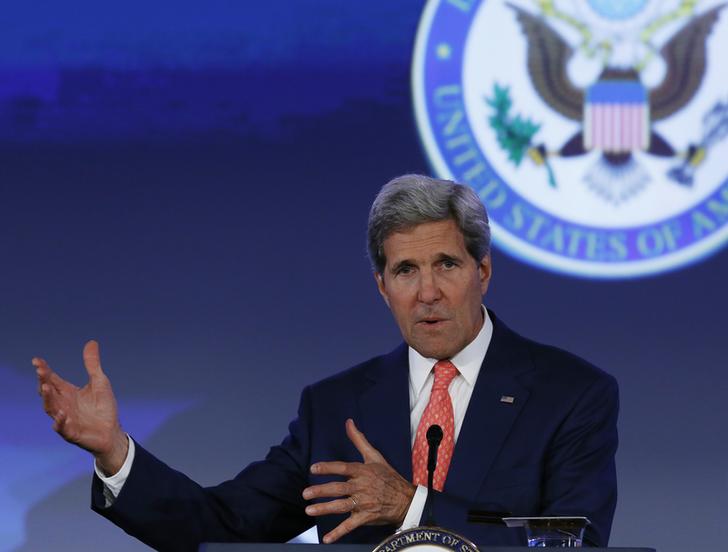 U.S. Secretary of State John Kerry delivers opening remarks at the "Our Ocean" conference at the State Department in Washington June 16, 2014. REUTERS/Gary Cameron
CAIRO, Mar 13 (Aswat Masriya) - United States Secretary of State John Kerry stressed on Friday his country's commitment to supporting Egypt, during his speech at the economic conference in the resort city of Sharm el-Sheikh on Friday.
Kerry arrived in Egypt on Thursday to represent his government in the conference. Egypt hopes that the conference will bring investments needed to revamp its economy, which has been hit hard by four years of political instability.
Addressing the conference during its opening session, Kerry said he comes to deliver a "clear message": the people of America are "committed to the security, political and economic well being" of Egypt.
The state secretary applauded the efforts of Egyptian President Abdel Fattah al-Sisi in what he described as improving the general atmosphere for investment in the country. He referred to a newly-issued set of legislations to regulate investment in the country.
Sisi issued the legislations on the eve of the economic conference.
Investment Minister Ashraf Salman told reporters last week that the laws include incentives and benefits to reduce production costs, which would in turn encourage investment.
Kerry said the new laws would cut down bureaucracy when it comes to investment in Egypt, adding he has faith that additional work to create sacredness of investment contracts would follow.
Kerry did not pledge any form of aid to Egypt during his speech, confirming earlier statements made by a senior State Department official to Reuters. Sisi had called for increased U.S. military aid to Egypt earlier this week.
Yet, the official told reuters that the American delegation visiting Egypt is keen on focusing on economic investment.
The state secretary also addressed the global issue of combating terrorism, applauding Egypt's efforts in its fight against the growing phenomenon.
Egypt is facing a militant insurgency along its eastern borders in the Sinai Peninsula, where the Ansar Bayt al-Maqdis militant group is mostly active.
On the western borders, Egypt faces similar security challenges, with the rise of militancy in neighbouring Libya.
Egypt's air force carried out airstrikes targeting militants in Libya last month in response to the beheading of 21 men, 20 of whom were Egyptians, at the hand of militants believed to belong to a Libyan division to Islamic State fighters in Iraq and Syria.
Kerry stressed during his speech his government's support to Egypt in its fight against terrorism. He added that the importance of the economic conference stems from the tools it provides for this fight.
Ahead of the conference, Sisi held a quartet summit with Kerry, Jordanian King Abdullah and Palestinian Authority President Mahmoud Abbas to discuss the situation in Palestine, state television reported.