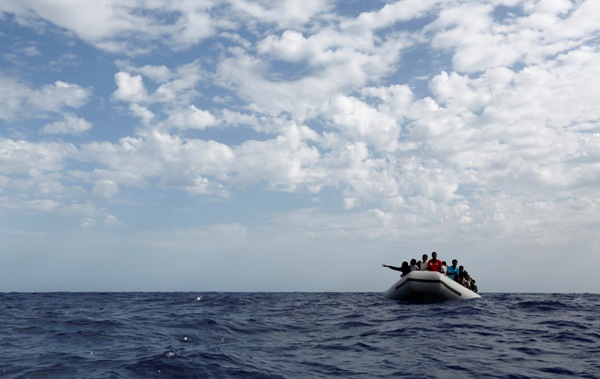 A group of 106 sub-Saharan Africans on board a rubber dinghy wait to be rescued by the NGO Migrant Offshore Aid Station some 25 miles off the Libyan coast, in this October 4, 2014 file photo. REUTERS/Darrin Zammit Lupi/Files
CAIRO, May 26 (Aswat Masriya) - Egypt's armed forces has arrested 6004 individuals attempting illegal migration from Egypt from October 2014 to April, the spokesman announced on Tuesday.
Spokesman Mohamed Samir said in a report on efforts to combat smuggling and illegal migration that those arrested included both Egyptian nationals and other immigrants.
Last December witnessed the largest number of illegal migrants arrested, standing at 1425 according to the report. It was followed by October (1422), then November (1237), then April (1236). The months with the fewest arrests of illegal migrants reported were January and March, both standing at 189.
The army also said in the report it discovered 521 underground tunnels from last October to April. Sixty-three of the discovered tunnels were one to 2.8 kilometres away from the state's international borders, the report read.
Egypt issued in April a legislation punishing those who dig or use border tunnels for communication with foreign countries by life in prison.
The state, like many others in the region, has been facing a strong wave of illegal migration, which especially intensified recently due to a spillover of crises from neighbouring countries such as Syria and Libya.
Egypt's border guards salvaged on Monday the bodies of five individuals who drowned in the Mediterranean Sea while attempting to illegally sail out of the country, the Kafr El-Sheikh health directorate announced.
Upon inspecting the corpses of the deceased at the morgue, it appeared they were all Sudanese.
A security source said that forces arrested 25 individuals attempting to illegally migrate to Italy from the Kafr El-Sheikh Mediterranean shore.
Egypt's President Abdel Fattah al-Sisi had stressed the importance of combating illegal migration earlier this month. He noted that direct European investments in countries where illegal migration stems from could provide the youth with job opportunities.