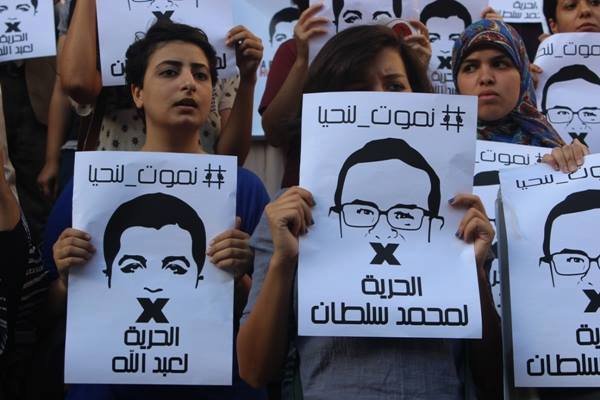 Activists protest against the detention of Mohamed Sultan and Al Jazeera journalist Abdullah Elshamy who have been on hunger strike for more than 120 days, in central Cairo,June 1, 2014 - Aswat Masriya/Ahmed Hamed
By Jihad Abaza
CAIRO, June 21 (Aswat Masriya) In a solidarity conference on Thursday, the Hisham Mubarak Law Center said that the number of detainees on hunger strike is much larger than it had initially expected.
"What do you do when you have no options and no way of expressing yourself?" asked Aida Seif Al-Dawla, a prominent human rights activist and founder of Al-Nadeem Center. "For a political detainee, a hunger strike is the last resort to get help," she answered.
Seif Al-Dawla along with Laila Soueif, a professor and political activist, began a hunger strike last month in solidarity with Mohamed Soltan and Abdullah El-Shamy, two detainees who stopped eating more than 100 days ago.
Shamy, an Al-Jazeera journalist, was released on medical grounds late on Tuesday.
Soueif continued her hunger strike for 23 days while Seif Al-Dawla broke hers after the first two weeks.
Sara Mohamed, a relative of Mohamed Soltan represented Soltan's family at the conference as the rest of the members are living in the United States. Soltan, an Egyptian-American, has been on full hunger strike for longer than 145 day, and has abstained from drinking water for longer than 14 days.
Soltan decided to refrain from water after the National Council for Human Rights released a report saying he was in good health. "Soltan is currently at Al-Qasr Al-Einy Hospital, but we have not been allowed to visit him. We received news that he is suffering from clotting in the lungs and severe dehydration," said Mohamed.
Mohamed added that Soltan was already suffering from poor health when he was arrested from his home in August last year as he had still been recovering from a bullet wound in his arm. Soltan had to undergo surgery with spoons in his prison cell when his arm got infected because the prison refused to let him see a doctor.
"Soltan sent us a message yesterday saying that he knows people have been asking for him to end his hunger strike but he won't. He said that instead of pressuring the victim, people should pressure the oppressor." his relative said.
Amru Shura, a board member at the Doctor's Syndicate, said that, "The doctors are expecting Soltan to go into a comma soon and that when he does, it will not be his choice whether to take glucose or not. The doctors assured that if he were to go into a comma, they would forcefully give him glucose."
The most recent additions to detained hunger strikers include Karima El-Seirfy, the daughter of Amin El-Seirfy (a close associate of ousted president Mohamed Morsi), and six of her colleagues.
El-Seirfy and her cellmates decided to begin a full hunger strike more than a week ago to protest the assaults they were subjected to in prison. "When I asked my daughter why she had to start a hunger strike, she said that 'we must either live with dignity or die with dignity'," her mother said.
Seirfy was arrested from her home last April. "They arrested my daughter to put pressure on my husband because he worked in Mursi's presidential office," said Seirfy's mother.
Gehad Mohamed, 25, also spoke about her husband, Hassan Hassan, who began a hunger strike on December 15, ending it on April 15, but then starting another again recently. Mohamed recounted the day her husband got arrested and said that she was arrested along with him, and was forced to sit and watch as they tortured him.
"After they beat me, blindfolded and threatened to rape me, they took off the blindfolds and asked me to look back at my husband. I saw him naked, hung by his arms to the ceiling, and then they proceeded to electrocute him in sensitive areas. They kept asking him to confess, but when he would ask them what the charges are, they would just continue to torture him," his wife said.
WikiThawra recently released a report saying that over 41,000 people have been politically detained in Egypt since the removal of President Mohamed Mursi of the Muslim Brotherhood last July.
Family members of other hunger striking detainees such as Ibrahim El-Yamany, an Al-Azhar student who has been on hunger strike for more than 89 days, claimed that they have no idea how to prove that their relatives are on hunger strike.
"Prison administrations and doctors often lie in the health reports," said Nefeesa, Al-Yamany's mother.
"Those searching for freedom are willing to pay any price for it," she said, adding that her son is still on hunger strike.
The Ministry of Interior continues to deny the presence of political detainees, and hunger strikers in its prisons.
"No one gets arrested without an order from the prosecution and an arrest warrant. There are no detainees in Egypt; all those in prison are serving sentences or are in custody pending trials or investigations," a security source had previously told Aswat Mariya.