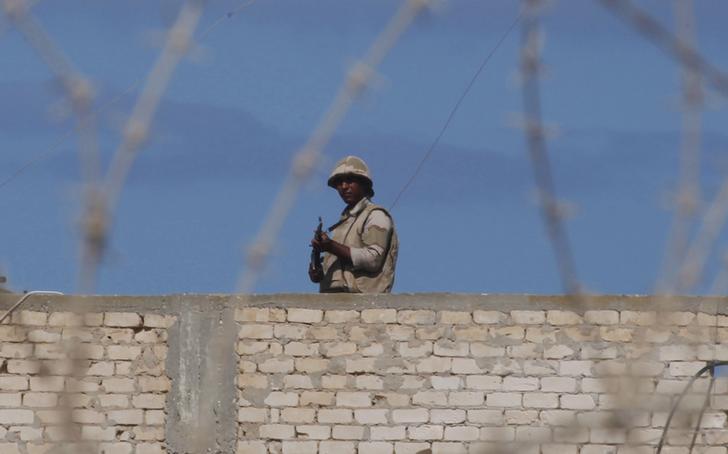 An Egyptian soldier guards the border between Egypt and southern Gaza Strip September 16, 2013. REUTERS/Ibraheem Abu Mustafa
CAIRO, Jan 3 (Aswat Masriya) – Egypt's armed forces killed one "terrorist" and arrested 30 suspects during raids in the Sinai Peninsula on Friday, the armed forces spokesman said on Saturday.
Spokesman Mohamed Samir said in a statement that army forces also destroyed three vehicles and 10 motorbikes, all unlicensed, "used in carrying out terrorist operations."
Egypt's border guards shot dead a 17-year old Palestinian attempting to cross into Egypt via Sinai on Friday, said Iyad Al-Bozom, spokesman for the Palestinian ministry of interior.
Samir said in his statement that army forces arrested three Palestinians attempting to cross into Egypt. The army spokesman made no mention of Zaki Al-Hoobi, the 17-year old killed Palestinian.
A military source told Aswat Masriya on Friday that border guards shot at four Palestinian youths while crossing the Egyptian border with the besieged Gaza Strip. He added that three Palestinians turned themselves in, while the fourth "is likely to have fallen back to the Palestinian side after receiving a gunshot wound."
Bozom condemned the death of Hoobi, describing it as "excessive use of force," in a statement released on Friday. He reiterated his ministry's call on Egyptian authorities to immediately investigate the incident and hold to account those responsible for it.
"The child was unarmed and did not pose any threat to Egyptian security," Bozom said. "What happened is inconsistent with the neighbourly relations between brother[ly nations]."
Security forces in North Sinai also shot at a car which refused to stop at a checkpoint in al-Arish on Friday, killing the driver and injuring another passenger.
Samir said the car was trying to flee the checkpoint, refusing to respond to army forces' warning signs. He added that the car is owned by someone other than the two passengers and that killed driver possessed no documents giving him the right to drive it.
Egyptian authorities have intensified security measures in the Sinai Peninsula in reaction to proliferating militant attacks there, particularly since the army's ouster of Islamist President Mohamed Mursi in July 2013, which followed mass protests against his rule.
At least 30 military personnel were killed in a suicide blast which targeted a security checkpoint in Sinai's Sheikh Zuweid on October 24, in the worst militant attack since Mursi's ouster.
Egypt's most dangerous militant group, the Sinai-based Ansar Bayt al-Maqdis, claimed responsibility for the attack in a video released on November 14, shortly after pledging allegiance to the leader of the Islamic State fighters in Iraq and Syria.
President Abdel Fattah al-Sisi declared a three-month state of emergency and a nighttime curfew in parts of the Sinai Peninsula in response to the attack.