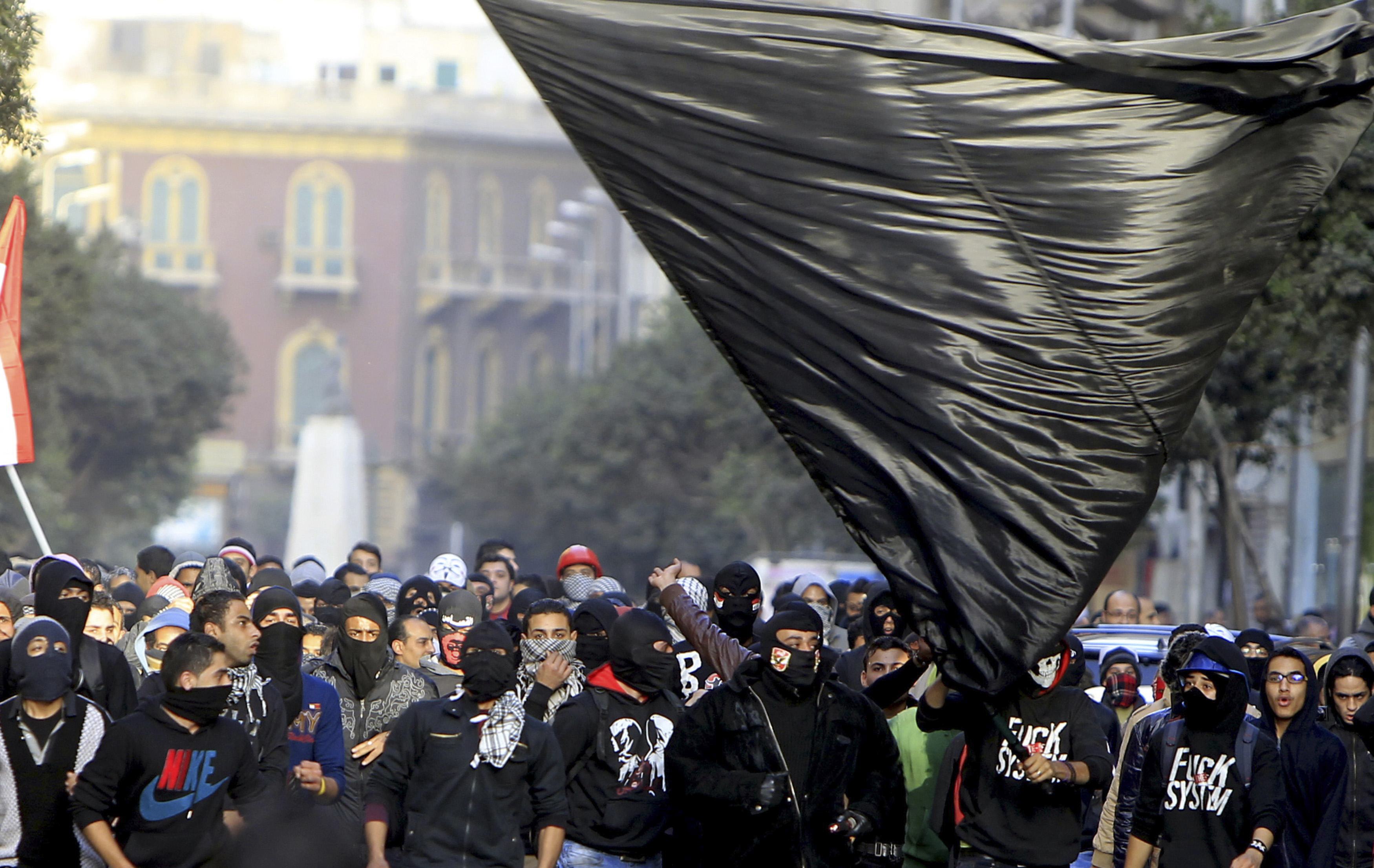 Members of the Black Bloc are seen during the protest in Tahrir Square in Cairo January 25, 2013. REUTERS/Mohamed Abd El Ghany
CAIRO, May 2 (Reuters) - Six men were jailed by a Cairo court on Thursday in the first ruling against a little-known group opposed to Islamist President Mohamed Mursi that the government has accused of participating in "terrorist acts".
State security prosecution last month ordered the detention of the men it said were Black Bloc members on accusations that the group seeks the destruction of the country, Egyptian state news agency MENA reported at the time.
The men, aged from 19 to 25, were convicted of attacking security forces and damaging court and police property, and each sentenced to five and a half years in prison, state newspaper Al-Ahram said.
Hundreds of apparent supporters of Black Bloc Egypt, mainly black-clad youths, emerged in January in the forefront of anti-government protests in Cairo, Alexandria and the Suez Canal cities.
Public prosecutor Talaat Abdallah then ordered police, army officers and the public to arrest anyone suspected of being members and accused them of being an "organised group that participates in terrorist acts".
Little is known about the group whose first post on its Facebook page was dated Jan. 21 this year. The group's page has since garnered over 34,000 online followers. Its slogan is "chaos against injustice" and it says it has one enemy only - the Muslim Brotherhood group from which Mursi hails.
The group's tactics appear to be inspired by Black Bloc protesters in Europe who, dressed in black and covering their faces, have formed a hardcore in anti-globalisation protests. (Reporting by Shaimaa Fayed, Maggie Fick and Ali Abdelati; Writing by Maggie Fick; Editing by Alison Williams)