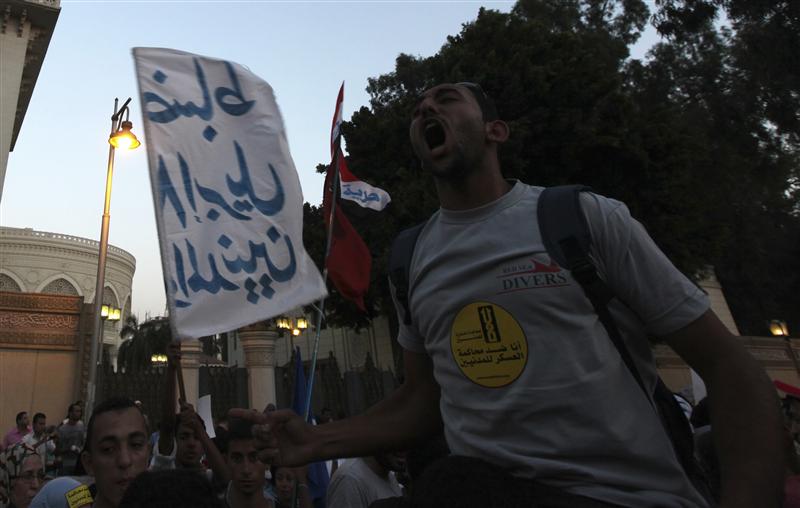 Activists chant against military trials for civilians by the presidential palace - Reuters
CAIRO, Oct 21 (Aswat Masriya) – A military tribunal ratified on Tuesday the death sentences to seven people on charges relating to terrorism.
The military tribunal sentenced two more defendants in the same case to life in prison.
The defendants were arrested after a weapons' warehouse was attacked in Qaliubia on March 19, in an incident which left two military officers killed, reported state-run al-Ahram.
Nasser Ahmed, a lawyer representing one of the defendants, had earlier denied to Aswat Masriya that the nine defendants were implicated in the case. He said that his client, Ahmed Abu Sreei, was in Turkey at the time the incident took place.
The defendants are accused of the murder of armed forces personnel, resisting authorities and possession of rifles, Ahmed had said.
The court had referred the seven defendants to the Grand Mufti on August 26 to consider the death sentence.
Since the death sentence has been ratified, the defendants will now be allowed to appeal their verdicts.
They are facing trial in two other court cases; one of which involves accusations that they belong to the militant group Ansar Bayt al-Maqdis, according to Ahmed.
The militant group has claimed responsibility for several terrorist attacks in Cairo and Sinai, including an attempt on Interior Minister Mohamed Ibrahim's life last September.
No Military Trials for Civilians, a group campaigning against referring civilians to military tribunals, had strongly condemned the initial death sentence. It had called for the defendants' retrial at a civilian court.
Article 204 of the new constitution allows referring civilians to military trials "in cases which represent a direct assault on armed forces institutions, their camps or anything that falls under their authority, alongside assaults on military or border zones, and military institutions, vehicles, weapons, ammunition, documents, secrets, public funds, or factories."