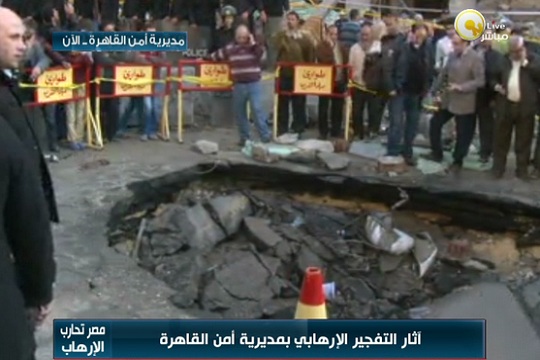 A blast tartets Cairo Security Directorate on January 24, 2014 - Aswat Masriya/screenshot via ON TV Live
CAIRO, May 2 (Aswat Masriya) - One police corporal was killed and four people were injured when a bomb exploded at the Masr al-Gedida Court in Cairo on Friday morning, Egypt's Interior Ministry said.
A planted, homemade bomb exploded this morning at a traffic police point in Masr al-Gedida, a media official at the ministry said.
Police corporal Abdallah Mohamed Abdallah was killed. Police officer Nasr Abdel Kader Mohamed Ibrahim and three conscripts were injured in the bombing, the source added.
Egypt's state television reported that security forces closed the Mahkama Square to traffic.
Security forces are currently sweeping the area to ensure there are no more planted bombs.
This attack came shortly after the Interior Ministry had announced that a suicide bomber and a soldier were killed when the former blew himself up earlier this morning in South Sinai.
After former President Mohamed Mursi's removal from power last July, militant extremists intensified their attacks on army and police forces in Sinai and other governorates including Cairo.