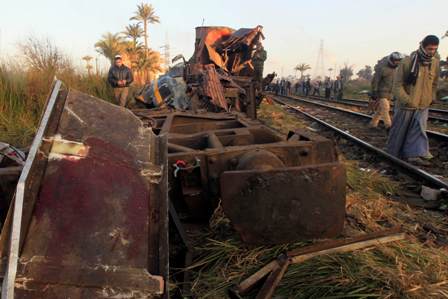 Men walk beside the wreckage of a military train crash in the Giza neighbourhood of Badrashin, about 40 km (25 miles) west of Cairo, January 15, 2013. REUTERS/Mohamed Abd El Ghany
Egypt's Prime Minister Hisham Kandil decided on Tuesday to immediately cash 30 thousand Egyptian pounds to the families of each victim in the recent train crash in compensation and to pay an amount of money for living casualties in accordance with the degree of their injury.
Nineteen army recruits were killed and around 107 were wounded in a train accident in south of Cairo earlier on Tuesday morning.
Security sources said that the train which was on its way from the southern city of Assiut to the capital carried at least a thousand army recruits to the central security forces.
The cabinet mourned the victims in a statement carried by the Middle East News Agency.
"I offer my sincere condolences to the families of the deceased and pray for a speedy recovery for the wounded," said Kandil in the statement.
Defence Minister Abdel Fattah al-Sisi issued instructions to the armed forces hospital where the injured were transferred to provide the highest levels of medical care for them.
Kandil and President Mohamed Mursi have reportedly visited the hospital to check on the injured and console them and their families.