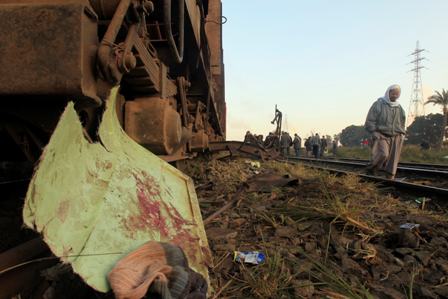 Belongings and traces of blood of victims are seen at the wreckage of a military train crash in the Giza neighbourhood of Badrashin, about 40 km (25 miles) west of Cairo, January 15, 2013. REUTERS/Mohamed Abd El Ghany
Railway workers went into strike on Sunday, cutting off the railroad track in Alexandria's main train station which stopped a train from heading to Cairo.
Head of the Independent Union for Railway Workers, Saeed AbdelGhany, said that they demand the reintegration of the sectors of long distance and short distance.
He pointed that separating the two sectors does not accomplish social justice, as only engineers benifit from this situation.
The workers at Egypt's Railway pointed to their worsening economic status, saying that their working conditions put them at risk because of the engineers' technical errors.
"Trains are not up to safety standards, causing accidents where drivers and workers are the victims," workers explained the reasons for their strike, "yet the Railway Authority gives engineers high salaries and incentives that may reach tens of thousands pounds, whereas workers get less than one thousand pounds."