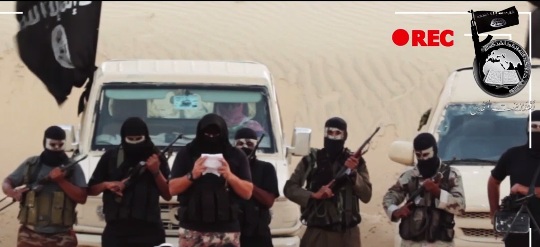 A snapshot from a video released on Twitter by Ansar Bayt al-Maqdis on August 28, 2014.
CAIRO, Nov 30 (Aswat Masriya) – The Cairo Urgent Matters Court designated on Sunday the Islamic State in Iraq and the Levant (ISIL) militant group as a "terrorist" organisation.
The ruling came after Ahmed Ibrahim, lawyer at the Nedal Centre for Rights, filed a lawsuit calling for a ban on the group and any other groups affiliated with it in Egypt.
Islamic State fighters have controlled large areas of Iraq and Syria recently. They have carried out a number of mass executions and recently beheaded three American nationals and two British nationals.
Egypt's most dangerous militant group, the Sinai-based Ansar Bayt al-Maqdis, pledged on November 10 allegiance to the leader of the Islamic State fighters.
Ansar Bayt al-Maqdis, designated as a terrorist organisation by a Cairo court in April, has claimed responsibility for several attacks against security forces, including an attack on a security checkpoint in Sinai on October 24 which left at least 30 security personnel killed.