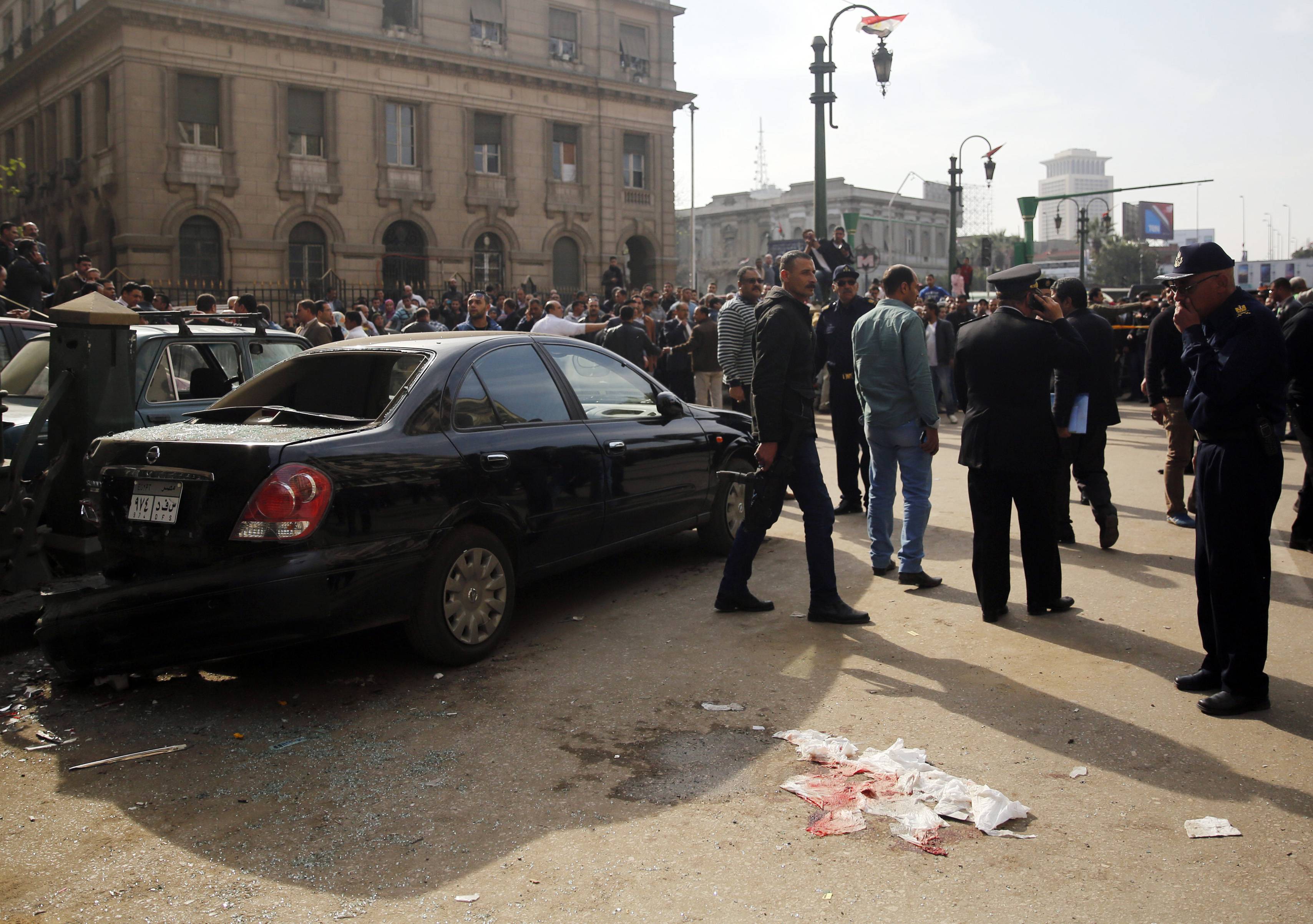 Security officials inspect the scene of a car bomb blast in front of The High Court in downtown Cairo, March 2, 2015. At least eight people were wounded in an explosion near a top court building in central Cairo on Monday, security sources said. REUTERS/Amr Abdallah Dalsh
CAIRO, May 18 (Aswat Masriya) - The Cairo Criminal Court referred on Monday two defendants to Egypt's Grand Mufti to issue an opinion over sentencing them to death for establishing and joining "a terrorist cell".
One of the defendants is charged with establishing a group with the purpose of stalling the constitution, preventing state institutions from carrying out their duties, attacking citizens' personal freedoms and harming national unity.
The other defendant is accused of joining "a terrorist cell" which attempted to vandalise and bomb public buildings. He is also charged with possession of explosive devices.
The court is scheduled to issue its final verdict in the case on July 4. By that time, it would have received the Grand Mufti's opinion.
The Mufti's opinions are not legally binding, yet it is customary for the court to adopt them.
The judge who presided over the court, Moataz Khafagi, told Aswat Masriya that investigation proved that the two defendants supplied other defendants with explosive devices and funds to carry out "terrorist operations" against security locations and personnel in Giza.
Khafagi faced an assassination attempt on May 10, when explosive devices were planted underneath his car outside his house, located in a Cairo suburb.
The Interior Ministry announced earlier on Monday that the two main suspects in the failed assassination plot were killed in a fire exchange with security forces attempting to arrest them.
Khafagi has presided over multiple cases where Muslim Brotherhood leaders were defendants, issuing several death and life in prison sentences.
On May 16, gunmen opened fire on a vehicle in North Sinai's al-Arish city, killing three prosecutors and a driver.
The deadly attack closely followed a court decision to refer ousted Islamist President Mohamed Mursi to the Grand Mufti, to issue an opinion over handing him the death sentence.
Militancy inside Egypt has seen a significant rise since the military ouster of Mursi in July 2013, following mass protests against his rule. Most attacks target security forces in North Sinai.