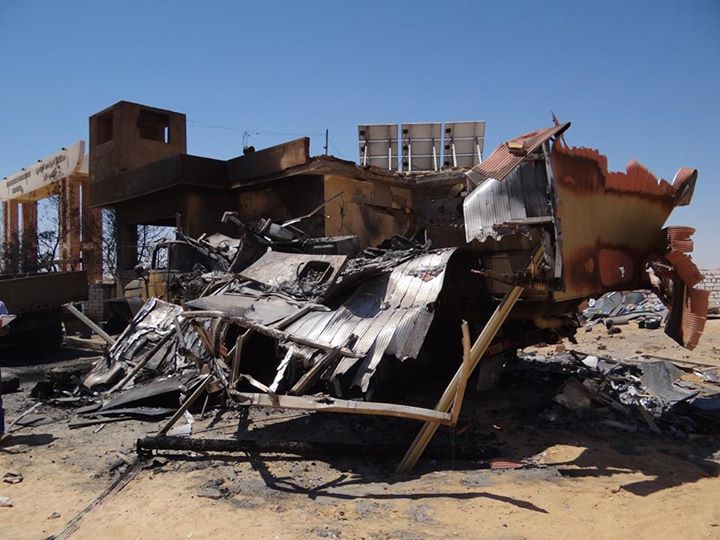 An army checkpoint after being attacked near Farafra in New Valley, July 19, 2014 - Photo from Egyptian army
Cairo, Oct 1 (Aswat Masriya) - The Egyptian Travel Agents Association (ETAA) has informed Wednesday travel agencies of halting all desert tours west and south of Egypt during Eid al-Adha and 6th October holidays through October 21, as decided in a meeting at the Ministry of Defence attended by security and tourism revival committee representatives.
The meeting discussed security threats at the New Valley region and near the Southern borders.
Tours in the White Desert will resume on October 22, but staying overnight in camps or hotels will be prohibited, a travel agency owner said in reference to a statement by ETAA.
Sinai-based militant group Ansar Bayt al-Maqdis announced Wednesday plans to attack security forces and the minister of interior starting Saturday, the first day of Eid al-Adha holiday, Ahram Online reported.
Meanwhile, Egypt's interior ministry announced Sunday the elimination of seven "terrorists" affiliated with the Sinai-based Ansar Bayt al-Maqdis militant group. The "terrorists" were responsible for the July attack in the Farafra Oasis in southern Egypt, which left 21 security personnel killed, Minister of Interior Mohamed Ibrahim said.
In July, smugglers killed 21 soldiers in an attack on a military checkpoint in New Valley's Farafra Oasis, near the Egyptian-Libyan borders.
Three gunmen were killed and four other soldiers were injured in the attack, where heavy weapons and rocket-propelled grenades were used, the state-run news agency MENA said.
The incident was the second of its kind in the past three months as the same area was previously attacked by smugglers.
Egypt's security forces have intensified their security measures in North Sinai in reaction to repeated militant attacks that target army and police officials, which rose significantly since the military ouster of former President Mohamed Mursi last year. The attacks soon expanded to other areas of the country, including the capital.
A fact-sheet prepared by Egypt's ministry of foreign affairs put the death toll for terrorism acts which took place since January 2011 and until April 2014 at 971, including 664 security personnel.
Egypt's tourism, a main source of income, has suffered dramatically since the ouster of Hosni Mubarak in 2011 due to political instability.