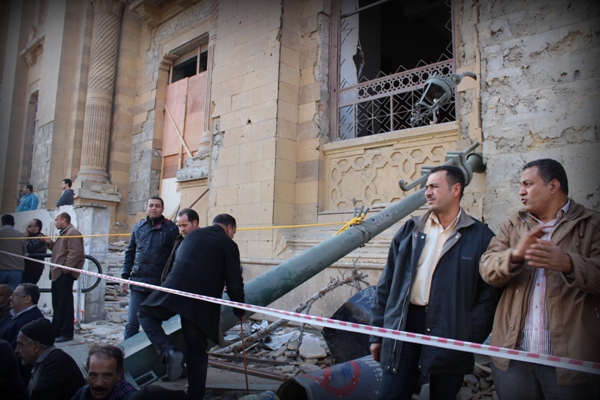 The Islamic Art Museum in Cairo after a blast that hit Cairo Security Directorate on January 24, 2014 - Ahmed Hamed/Aswat Masriya
CAIRO, Jan 24 (Aswat Masriya) - The UNESCO expressed its deep concern about the damage to the Islamic Art Museum in a blast that targeted Cairo Security Directorate early on Friday.
The museum, which faces the directorate's main entrance on Port Said Street, sustained serious damage.
"I firmly condemn this attack and the destruction it has caused to the world-renowned Museum of Islamic Art in Cairo, which hosts thousands of invaluable artefacts," said Irina Bokova, Director-General of UNESCO.
"I pledge today that I will mobilise all of UNESCO's experience and expertise to rebuilding the Museum and restoring the damage – this is as essential for the people of Egypt as it is for women and men across the world."
Bokova also applauded the Ministry of Antiquities's immediate action to salvage the museum's artifacts and take measures to conserve them.
Egypt's Minister of Antiquities Mohamed Ibrahim said the museum has been completely destroyed by the bombing.
Initial estimates reveal that most of the museum's interior decorations were destroyed, the ceiling fell and the glass fronts were smashed, the minister said in a statement.