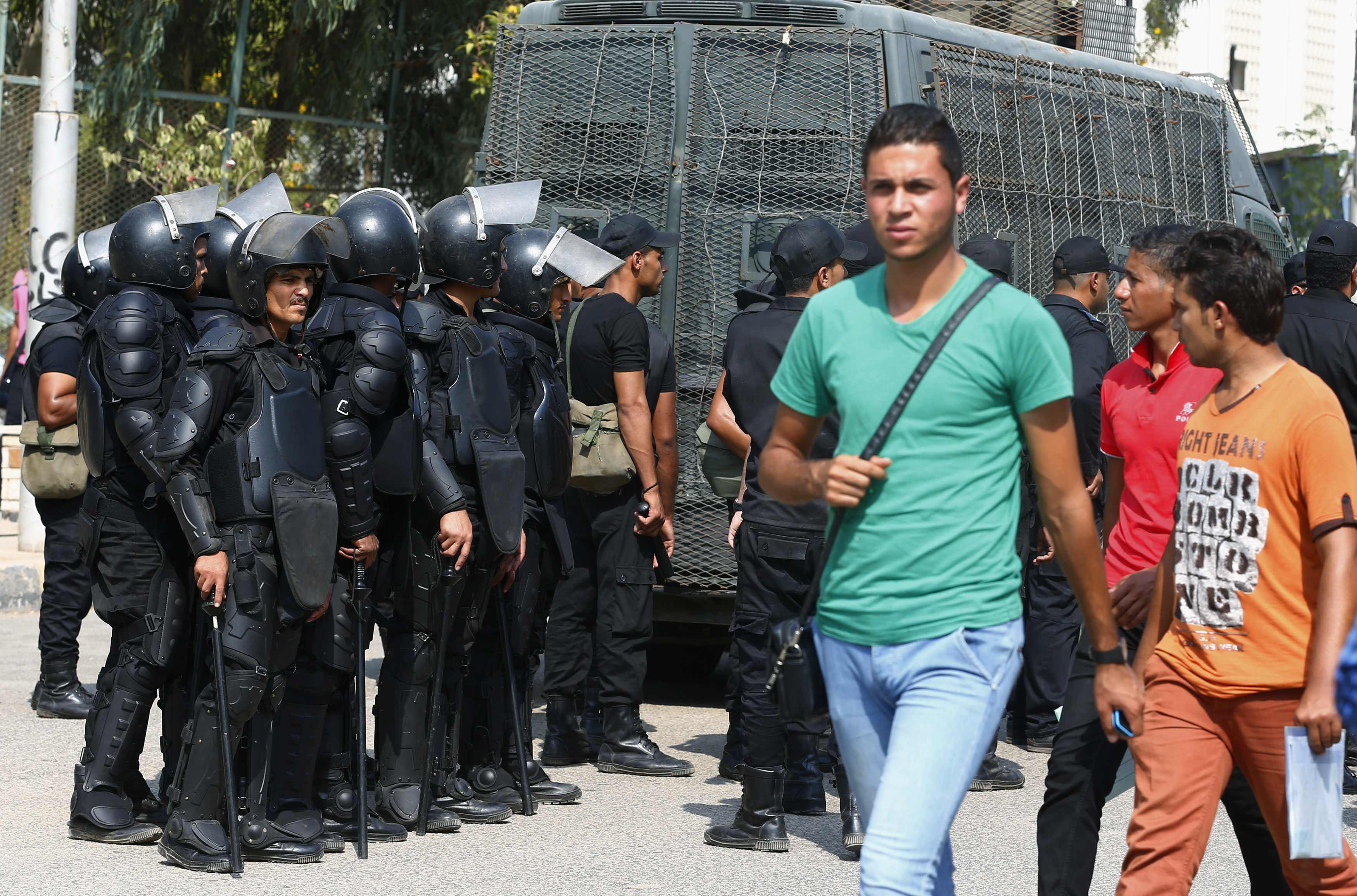 Al-Azhar University students walk past riot police during a protest conducted by a pro-Muslim Brotherhood student movement known as the Students Against the Coup, in Nasr City district October 12, 2014. REUTERS/Amr Abdallah Dalsh
CAIRO, Oct 13 (Aswat Masriya) – Minister of Interior Mohamed Ibrahim ordered on Monday the "heavy presence" of security forces on al-Azhar University's campus.
The minister also sent security forces to secure the gates of Cairo University and Azhar University in Cairo, reported state run news agency MENA.
Security forces are to assist Falcon Security Services, a private security company hired by the ministry of higher education to secure 12 universities.
A protest organised by the pro-Mohamed Mursi "Students against the coup" movement turned violent on Sunday when student protesters destroyed Falcon's security equipment stationed outside Cairo University's gate, reported the Association for Freedom of Thought and Expression (AFTE).
"Students against the coup" also organised protests at other university campuses, including that of Azhar University's school of medicine. Students also destroyed a Falcon office outside campus, reported the Student Observatory.
AFTE's Student Observatory added that police forces stormed the Azhar University campus and fired teargas at the protesters, arresting five.
University campuses have witnessed unprecedented violence throughout the past academic year, with at least 16 students killed amid on-campus protests, according to the Student Observatory.
The "Students against the coup" movement has been organising protests against the former Islamist president's military ouster throughout the past academic year. Protests have often devolved into clashes with security forces.
Before the start of the academic year this Saturday, the cabinet discussed measures to be adopted during the year to quell any possible tension.