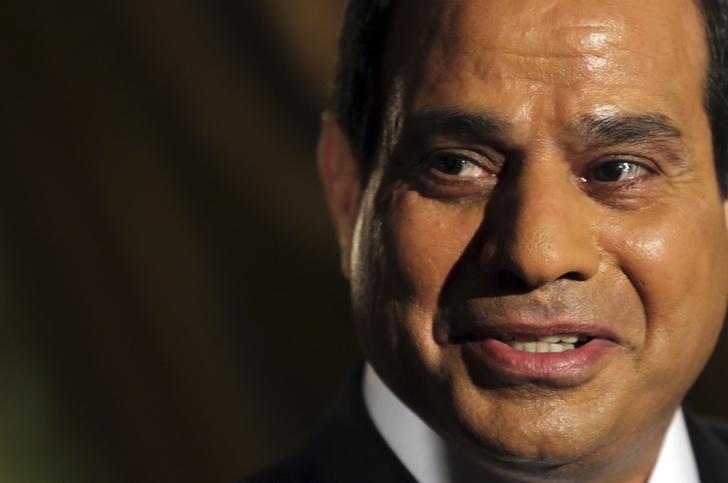 Egyptian presidential candidate and former army chief Abdel Fattah al-Sisi, looks on during an interview with Reuters in Cairo May 14, 2014. REUTERS/Amr Abdallah Dalsh
Personal Life and Career
Abdel Fattah al-Sisi was born on November 19, 1954 in the ancient district of Al-Gamaliya where his father owns a small business.
He is married and has three sons and one daughter.
Sisi graduated from the Egyptian Military Academy in 1977 before taking a General Command and Staff Course at the Egyptian Command and Staff College in 1987.
In 1992, the former army chief took a General Command and Staff Course at the Joint Command and Staff College in the United Kingdom.
He was then granted a Fellowship of the Higher War College at Nasser's Military Sciences Academy in Egypt in 2003 and a War Course at the US Army War College in the United States in 2006.
He also served as the Egyptian Military Attaché in Riyadh, KSA, at some point and took a Basic Infantry Course in the USA.
Sisi was the Director of Military Intelligence from 2010 until the January 25 uprising in 2011.
Muslim Brotherhood
Ousted President Mohamed Mursi of the Muslim Brotherhood chose Sisi as defense minister in 2012 to replace Field Marshal Hussein Tantawi.
On July 1, 2013, the armed forces, headed by Sisi, issued a statement to the Egyptian people granting Mursi 48 hours to respond to the demands of protesters who had taken to the streets since June 30.
On July 3, Egypt's army released a statement ousting Mursi who is now behind bars facing trial over allegations that include murder.
In a televised speech later in July, Sisi appeared and called out for Egyptians to demonstrate to mandate the army to confront terrorism.
Bid for presidency
Sisi was then promoted to Field Marshal by interim President Adli Mansour on January 27 this year before he resigned as defense minister on March 26 in order to run for Egypt's presidency.
Only Sisi and leftist politician Hamdeen Sabahi were able to fulfill the requirements to run for presidency. The two will compete for office this month on May 26 and 27.
Parties that have announced their support for Sisi: Al-Wafd Party, Al-Masryeen Al-Ahrrar, the Salafist (ultraconservative) Nour Party, the Nasserist Party, Al-Moatamar Party, Al-Tagamoa Party and the National Egyptian Movement Party.