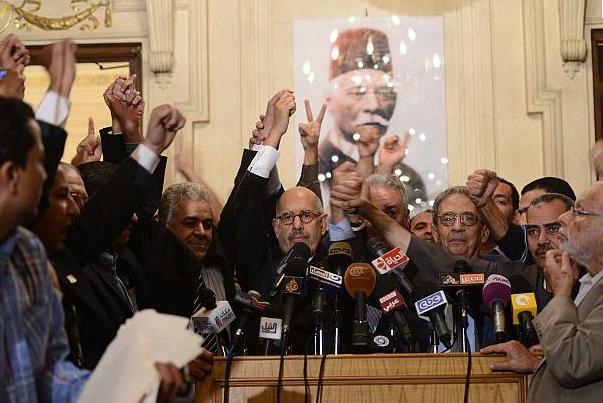 National Salvation Front - photo from Facebook
The speech President Mohamed Mursi gave on Wednesday only makes the National Salvation Front more adamant on calling for early presidential elections to achieve the revolution's goals.
In a statement it made today, the front expressed its confidence that millions of Egyptians will peacefully demonstrate on June 30 to assert their will and rectify the revolution's course.
The front said it supports popular demands that include holding presidential and parliamentary elections following a transitional phase, forming a strong cabinet that focuses on economy, security and social justice, forming a committee to redraft the constitution, drafting transitional justice laws and reconciling all factions.
Mursi's speech entrenches the Egyptians' belief that he is incapable of assuming power and is unfit for such position, the statement said.
The speech mirrors "a clear inability to admit the harsh reality Egypt is living through due to his failure to run the country since he became president".
Mursi did not admit many of the mistakes he committed since he issued the constitutional declaration last November, the statement said.
He also did not bear responsibility for the contrived polarisation which he created among people of the same country, it added.
The front accused the president of ignoring all recognition of the sharp decline in Egypt's economy and the rise of its external debt in addition to the absence of security and the numerous threats to the country's national and regional security.
In the statement, the front criticized Mursi's accusation to all his opponents of supporting the former regime.
Mursi launched an unacceptable attack against the judiciary and the media in a way that subjects him to legal accountability on charges of defamation, the front added.