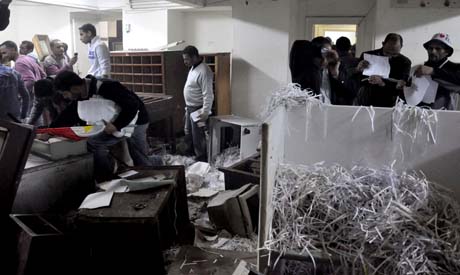 Protesters break in the state security agency building in Nasr City in Cairo March 5, 2011. REUTERS/Mohamed Abd El-Ghany
An Egyptian misdemeanor court sentenced two State Security policemen to two months, with labor, on Wednesday, on charges of torturing two suspects in 2011.
The defendants may pay L.E. 5,000 (725 US Dollars) bail for a suspended sentence.
Investigations had revealed that the two policemen arrested two bearded brothers at an airport in February 2011 and tortured them at Almaza Prison to force them to confess that they belong to terrorist organizations.
The court also ordered the defendants to pay 10,000 pounds (1,450 US Dollars) as a temporary compensation to the alleged victims.
Rights organizations say the Egyptian state does not take torture charges too seriously.