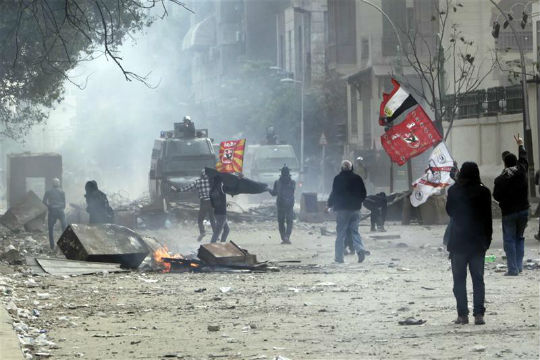 Protesters clash with security forces outside of the United States embassy in Cairo on September 14, 2012. Mohamed AbdelGhany/Reuters
A Cairo criminal court has sentenced seven people to death in absentia for an offensive film following the approval of the Mufti (Sunni Islamic scholar).
The film, which insults Islamic Prophet Mohamed, prompted violent clashes across the region last year.
The defendants are: Morris Sadek Gerges Abdel Shahid (lawyer from the National Coptic Association), Morcos Aziz Khalil (television presenter of a religious program), Fekry Abdel Maseeh Zaqlama (doctor), Nabil Adeeb Beseda Moussa (member of the National American Association), Nicola Bassili Nicola (studied at Cairo University), Nahed Mahmoud Metwaly (doctor who lives in Australia) and Nader Farid Nicola.
The court also sentenced Terry Jones, American pastor of Dove World Outreach Center, to five years in jail for contempt of religion.
Egypt's former Attorney General had referred the defendants to court on charges of contempt of religion, insulting Prophet Mohamed, inciting violence and sectarian strife and plotting against Egypt.