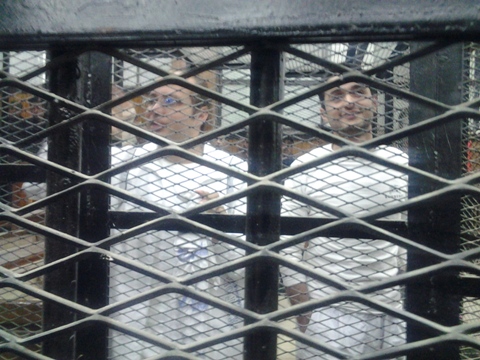 Activists Ahmed Maher and Ahmed Douma in a hearing on December 8, 2013. Ahmed Hamed
CAIRO, Jan 27 (Aswat Masriya) - Egypt's Court of Cassation turned down on Tuesday a challenge issued by April 6 Youth Movement co-founders Ahmed Maher and Mohamed Adel and political activist Ahmed Douma against their prison sentences, upholding the three year sentences.
A Cairo court sentenced the trio to three years in prison and a 50,000 Egyptian-pound fine in December 2013 for violating the protest law. The verdict was upheld by a court of appeals last April.
Former interim President Adli Mansour issued the protest law in November 2013 to regulate peaceful assembly. The law has long been the epicentre of wide criticism by domestic and international human rights organisations which say it violates international standards for peaceful protests.
The legislation obliges demonstrators to inform the authorities of their intention to assemble three days prior to their scheduled events. It also gives the interior ministry the right to cancel, postpone or move protests.
The trio were accused of protesting without permit, in violation of the said law. They were also accused of using force, assaulting public employees, illegal assembly, stalling traffic, vandalism and "thuggery".
Clashes erupted outside the Abdeen Court in Cairo late November, 2013, when Maher decided to turn himself in for investigation into an earlier protest he had called for, without permit.
Douma is also facing trial alongside 268 others for taking part in the "cabinet clashes" which occurred in December 2011. In December 2014, the political activist was sentenced to three years in prison for insulting the court.