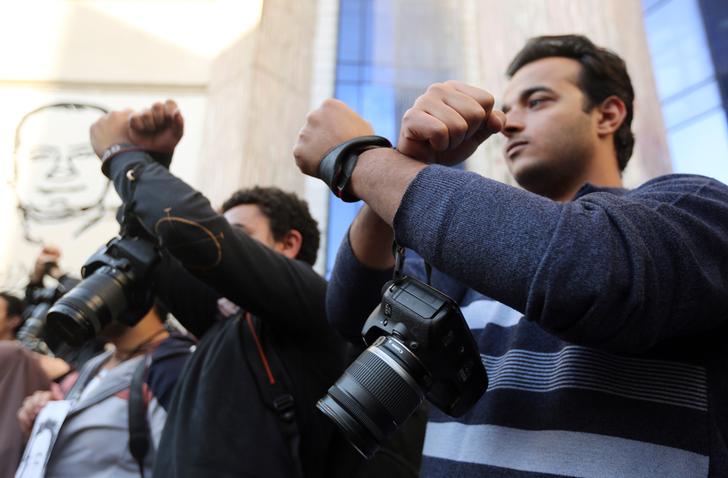 News photographers and journalists protest against the detention of photojournalist Abou Zeid, also known as "Shawkan", in front of the Press Syndicate in Cairo February 8, 2015. REUTERS/Mohamed Abd El Ghany
CAIRO, Jan 11 (Aswat Masriya) - A Cairo misdemeanour court sentenced on Monday four journalists to three years in prison each on charges of 'publishing false news' and 'membership in an illegal organisation'.
The verdict is subject to appeal.
In July 2015, security forces had arrested the four journalists outside the Zeinhom morgue, Cairo's main mortuary.
Journalist Abu Bakr Khallaf, who heads an online media journalists union, and photojournalists Mohamed Adly , Sherif Ashraf and Hamdy Mokhtar were arrested while taking photos and conducting interviews while autopsy was being performed on the corpses of nine members of the Muslim Brotherhood group.
Egypt ranked second on a list prepared by France-based watchdog Reporters Without Borders of countries which frequently arrested journalists in 2014.
Nine Muslim Brotherhood leaders were killed by police in July, with conflicting reports on the conditions of their death. The Interior Ministry said they died in a security raid on an apartment in Cairo's October 6 suburb, saying they were "plotting" to carry out "terrorist" attacks, and accused them of shooting at the police as the apartment was raided.
But a Muslim Brotherhood spokesman said they were "unarmed", adding that the reports on clashes with security forces were "lies".
In December 2013 the Egyptian government listed the Muslim Brotherhood as a terrorist organisation, following the military ouster of then-president Mohamed Mursi, who hails from the Muslim Brotherhood group. Mursi was ousted in July 2013 following mass protests against his rule.
The Egyptian government insists it is behind the wave of militancy which has targeted security personnel since July 2013.
The Brotherhood continuously denies the accusations.