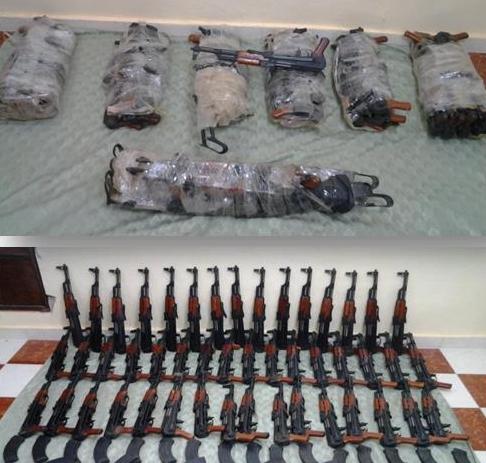 Egyptian armed forces were able to successfully thwart an attempt to smuggle arms into Egypt from the Western border shared with Libya on Wednesday, January 30, 2013. Handout
A speedboat carrying weapons in the Red Sea was neither Israeli nor Iranian, an army spokesperson has confirmed.
The speedboat, which was stopped on Thursday near Ras Mohamed, was carrying a Togo flag and was in the area to protect ships in the area from Somali pirates, Colonel Ahmed Ali said via Facebook.
"International private security companies have formed units of ex-security men to secure commercial ships in the Red Sea using speedboats. Some of these speedboats enter Egyptian waters by mistake," Ali added.
The speedboat contained 64 M6 assault rifles, 28 pistols and security guards from America, Ukraine, Russia and Greece.