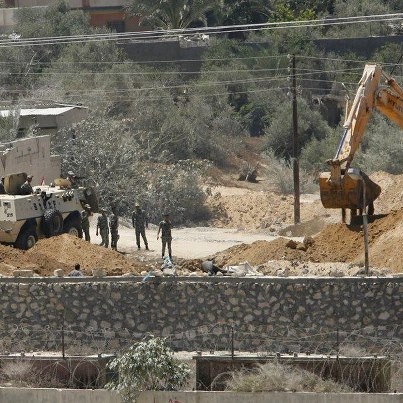 (Archive) Army forces supervise the process of demolishing tunnels in North Sinai - Aswat Masriya
CAIRO, Nov 14 (Aswat Masriya) - Five members of the Sinai-based militant group Ansar Bayt al-Maqdis were killed and seven others arrested on Friday at dawn during two military and police security campaigns in North Sinai, security sources told Aswat Masriya.
Six other "extremists", not belonging to the group, were also arrested, the sources added.
Thunderbolt forces clashed with a terrorist cell today at dawn, killing three masked men clad in Palestinian military clothes, the sources said. Forces also clashed with two elements in al-Husainat village south of Rafah and killed them. It was revealed that their mission was to monitor the movements of security forces.
Ansar Bayt al-Maqdis is one of the most active militant groups operating in Egypt. The group has claimed responsibility for several terrorist attacks in Cairo and Sinai, including an attempt on Interior Minister Mohamed Ibrahim's life last September.
Egypt's security forces have intensified their measures in North Sinai in reaction to repeated militant attacks that target army and police officials, which rose significantly since the ouster of Islamist President Mohamed Mursi last year. The attacks soon expanded to other areas of the country, including the capital.
At least 30 military personnel were killed in a suicide blast which targeted a security checkpoint in Sinai's Sheikh Zuweid last week. The explosion also caused damage to two military vehicles.
Shortly afterwards, a separate attack by unidentified gunmen on a security checkpoint in Arish killed three more security personnel.