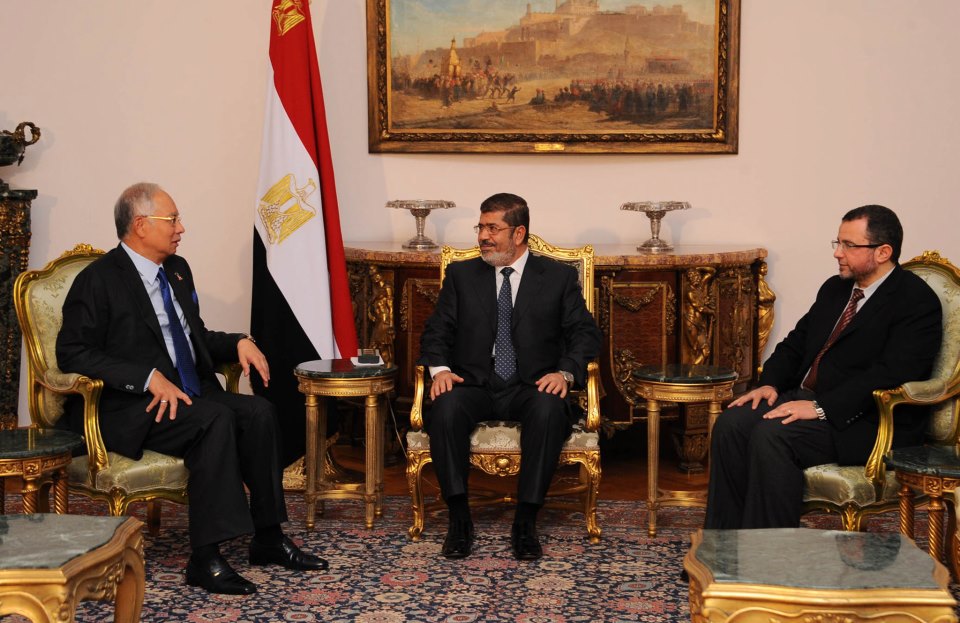 Malaysian Prime Minister Mohamed Abdel Razak (lf) with Egyptian President Mohamed Mursi and Prime Minister Hisham Kandil - Handout
Egyptian President Mohamed Mursi met on Tuesday with the Malaysian Prime Minister Mohamed Abdel Razak to discuss means to enhance trade, that reached $1.5 billion last year, between the two countries.

Mursi received Abdel Razak at the presidential palace in Cairo on Tuesday where they discussed bilateral relations and means to enhance cooperation in all fields, Egypt's presidency has said.

The PM expressed Malaysia's interest to encourage its businessmen to invest in Egypt as it tries to attract more foreign investors to help recover its ailing economy that has suffered greatly since the 2011 uprising that toppled President Hosni Mubarak.

Mursi and Abdel Razak also addressed a wide range of issues including regional and international affairs of mutual interest.

The two sides agreed that the aggression on the Palestinian people, including their siege, must end.

Palestinian President Mahmoud Abass had criticized the Malaysian PM's Monday visit to the Gaza Strip in light of the continuing conflict between Hamas that rules the strip.