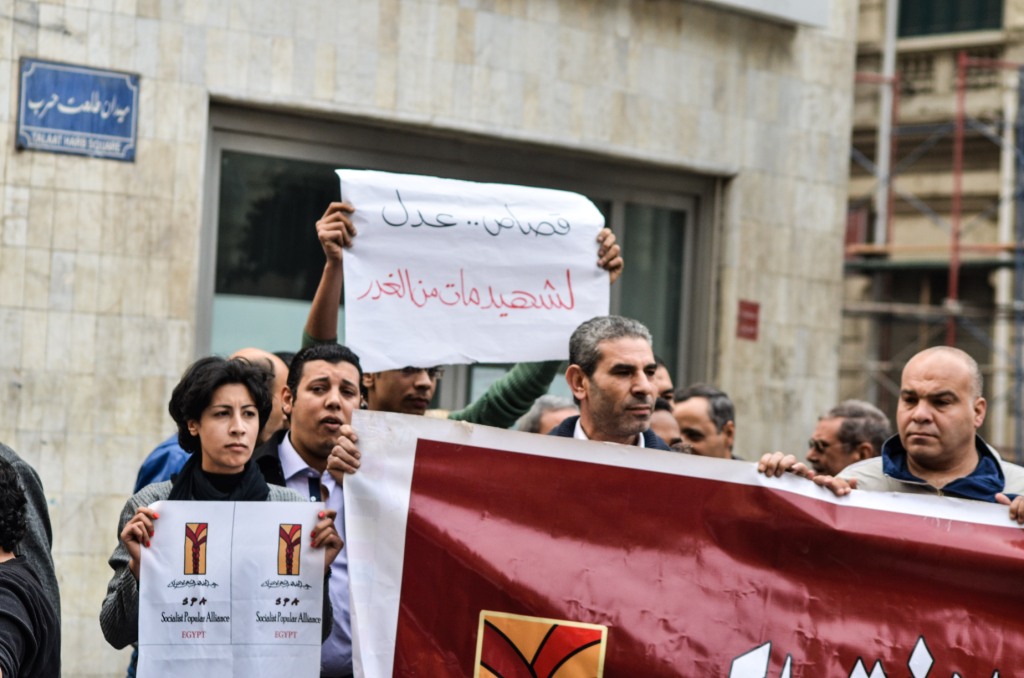 Shaimaa al-Sabbagh (L), member of the Socialist Popular Alliance Party, takes part in a protest in downtown Cairo shortly before her reported death, on Saturday, January 24, 2015. ASWAT MASRIYA/Mohamed al-Rayi
CAIRO, Jan 26 (Aswat Masriya) – Interior Minister Mohamed Ibrahim said that if it is proven that a policeman is responsible for activist Shaimaa al-Sabbagh's death, "I will hand him in myself."
Sabbagh was a member of the Socialist Popular Alliance Party, who was killed in a protest held in central Cairo on January 24, one day ahead of the fourth anniversary of the January 2011 uprising.
?A crowded funeral was held for her on Sunday in Alexandria, where she hails from.
The party said she was killed after sustaining birdshot and has accused the Interior Ministry of her killing.
Ibrahim, during a press conference on Monday, offered condolences on behalf of the police and said the police complied with all investigators' requests.
"We are committed to the results of the investigation," the minister said.
Ibrahim added that the police force includes more than 37,000 police officers and it is possible for one of them to make a mistake.
He said members of the police are held accountable twice because they face both criminal and administrative investigations, while all citizens only face criminal investigation.
In the early hours of Sunday, the office of Egypt's top prosecutor ordered an investigation into Sabbagh's death.
Prosecutor General Hesham Barakat ordered the summoning of security personnel who dispersed the protest and the records of the mission to disperse including the weapons used.