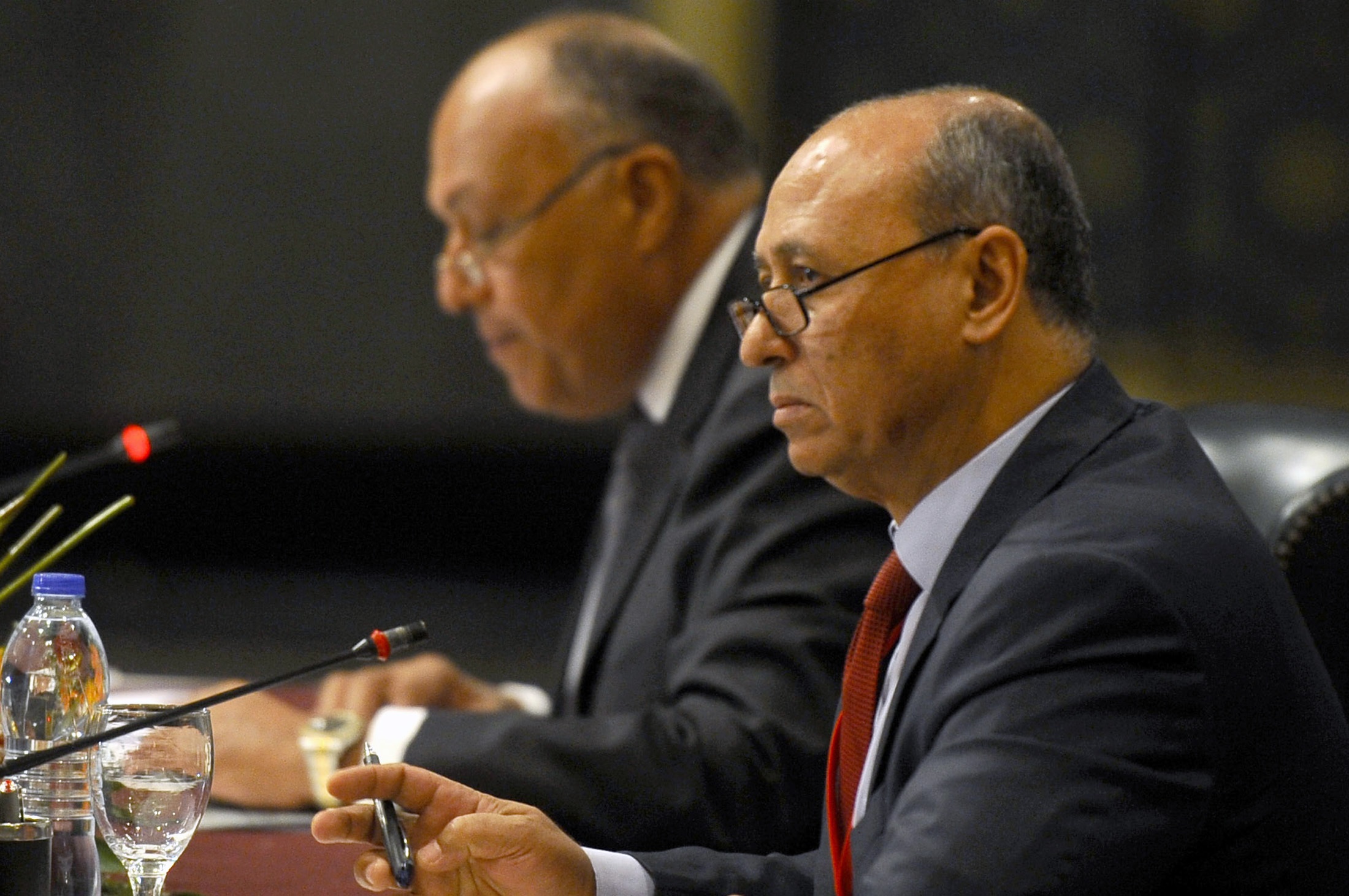 Libyan Foreign Minister Mohammed Abdel Aziz (R) and his Egyptian counterpart Sameh Shoukry (L) attend the Fourth Ministerial Meeting for the Neighbouring Countries of Libya with other Arab ministers in Cairo, August 25, 2014. REUTERS/Stringer
CAIRO, Aug 25 (Aswat Masriya) – Libya's neighbours called on Monday for the "gradual" disarmament of warring militants in the North African country, with regional sponsorship and international support.
Cairo hosted the Fourth Ministerial Meeting for the Neighbouring Countries of Libya, where the foreign ministers of Egypt, Libya, Tunisa, Algeria and Sudan discussed the latest wave of unrest in the country.
The meeting parties called for immediately halting armed operations and strengthening dialogue among different political factions to achieve national reconciliation. They urged foreign parties to refrain from exporting arms to any "illegitimate" factions within Libya.
The meeting also concluded with calling for combating terrorism within the North African country.
Militant fighting in Libya has recently intensified in measures unprecedented since the overthrow of late Libyan President Muammar Gaddafi in 2011. Army general Khalifa Haftar declared war on Islamist forces within Libya since May.
Forces in the Libyan City of Misrata blamed Egypt and the United Arab Emirates for airstrikes which targeted the Libyan capital on Saturday.
In a meeting with newspapers' chief editors on Sunday, Egypt's president Abdel Fattah al-Sisi denied that Egypt has conducted any military operations outside its borders "as of yet," reported state-run news agency MENA.
The foreign ministry strongly condemned on Monday "the trial to involve Egypt in Libya's internal affairs," stressing the importance of protecting the unity of the Libyan territories and their regional security.
In an interview with Reuters in May, Sisi referred to Libya as a "security threat" Egypt faces, especially in regards to combating terrorism.
A fifth meeting for Libya's neighbours is scheduled to be held in the Sudanese capital of Khartoum. However, the date for it is yet to be announced.